Bandifish
Talk

0
1,431pages on
this wiki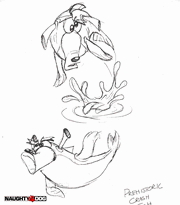 Bandifish
are a recurring enemy in
Crash Bandicoot 3: Warped
. They are found in the Prehistoric level
Dino Might!
flapping in the water. This fish has Crash's head, the rest of it is a fish tail and it can also spin like Crash does. If
Crash
gets hit by a Bandifish, the mutant fish will drag Crash under the water, and begin to feast on Crash.
They could possibly be an early evolution of Crash because they only appear in the prehistoric levels.
When encountering these enemies while performing the time trial, it's best to Double Jump and quickly execute the Death Tornado to avoid them, as waiting for the right timing to jump on them can waste time.
Crash Bandicoot 3: Warped
| | |
| --- | --- |
| Protagonists | Crash Bandicoot | Aku Aku | Coco Bandicoot | Pura | Baby T | Fake Crash |
| Bosses | Tiny Tiger | Dingodile | Doctor Nefarious Tropy | Doctor N. Gin | Doctor Neo Cortex | Uka Uka |
| Items | Crates | Wumpa Fruit | Crystals | Gems | Relics |
| Levels | First Chamber (Toad Village, Under Pressure, Orient Express, Bone Yard, Makin' Waves) | Second Chamber (Gee Wiz, Hang 'em High, Hog Ride, Tomb Time, Midnight Run) | Third Chamber (Dino Might!, Deep Trouble, High Time, Road Crash, Double Header) | Fourth Chamber (Sphynxinator, Bye Bye Blimps, Tell No Tales, Future Frenzy, Tomb Wader) | Fifth Chamber (Gone Tomorrow, Orange Asphalt, Flaming Passion, Mad Bombers, Bug Lite) | Sixth Chamber (Ski Crazed, Area 51?, Rings of Power) | Secret Levels (Hot Coco, Eggipus Rex) |
| Enemies | Bandifish | Beetle | Snake | Arsonist | Crocodile | Eel | Goat | Lab Assistant | Monkey | Pufferfish | Scorpion | Seagull | Shark | Mystery Man | Triceratops | Pirate | Wave Lab Assistant | Double-Headed Lab Assistant |Wizard Lab Assistant |