Welcome
Images — Chat — Discord — Policies
Bandipedia is an encyclopedia about the Crash Bandicoot series that anyone can edit. It currently has 1,722 Crash related articles and 10,005 images! You can help Bandipedia by clicking the "Edit" button on any article and adding information! Don't forget to stop by and say hello to the active bureaucrats and administrators who keep the site in working order. You can also check out our Facebook.
Want to chat about Crash? Hop on over to our affiliates at Crash Bandicoot Forums! They have a longstanding community dedicated to Crash and all sorts of other topics, including the upcoming N. Sane Trilogy! Registering is free and easy! Just click on the logo above!

Levels — Characters — Games
---
Featured Article
Ripper Roo (Japanese: リパールー/Ripārū) (also known as Doctor Roo) is an insane mutated kangaroo, though his head and face could closely resemble a dog...
Featured Video
Current Poll
What are your thoughts on the June 30th release date for the N-Sane Trilogy?
Did You Know
That…
There's a song called Neocortex sung by a band called the Elementals?
A glitch allows players to acquire 100 or more lives in the first two Crash games?
Cortex Island was going to be played on in Crash Twinsanity?
Feel free to add your own trivia!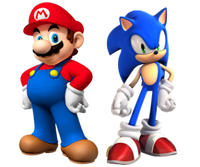 Platformer Games
Go to these sites for info or for help with your own wiki!
Azure Striker Gunvolt • Banjo-Kazooie • Broforce • Cave Story • Code: Hardcore • Conker • Contra • Crash Bandicoot • Donkey Kong • Drawn to Life • Freedom Planet • Geometry Dash • Jak and Daxter • Kirby • LittleBigPlanet • Mario • Mega Man • Metal Slug • Metroid • Mirror's Edge • Oddworld • Ratchet & Clank • Rayman • Shantae (and WayForward games) • Shovel Knight • Sly Cooper • Sonic • Spyro the Dragon • Strider • Tearaway • Yooka-Laylee
Want your community included? See how!

Ad blocker interference detected!
Wikia is a free-to-use site that makes money from advertising. We have a modified experience for viewers using ad blockers

Wikia is not accessible if you've made further modifications. Remove the custom ad blocker rule(s) and the page will load as expected.