Bats are enemies that first debuted in Crash Bandicoot.
Crash Bandicoot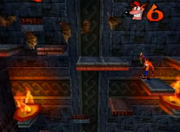 The bats first appear in
The Lost City
and
Sunset Vista
, where they attack
Crash
in swarms. The only way to get rid of the swarms of bats is by spinning away the lone bats on each side of where the swarm enters and leaves, hanging from the wall, as they are the ones summoning them.
Crash is able to spin the swarm of bats away, though if he gets caught in their path he will lose an Aku Aku or a life. However, they can usually be avoided by waiting on lower ground until they fly by. The bats also appear in a swarm in certain areas of Temple Ruins and Jaws of Darkness, but are not commanded by a lone bat. Wumpa Fruit will come out of the bats in The Lost City and Sunset Vista when spun. In all levels containing bats, Crash should stay low when the bats fly over to avoid them.
Crash Bandicoot: The Wrath of Cortex
The bats reappear in Crash Bandicoot: The Wrath of Cortex in the Wizards and Lizards level. In this game, they appear as small purple bats that fly around in circles, causing danger if Crash tries to jump in the air. They can be easily defeated by spinning them away at anytime. If Crash is hit by the wizard's magical energy in this level, then he will turn into a bat similar to the ones in the same level.
Crash Twinsanity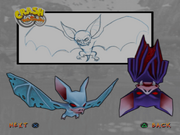 Bats reappear in Crash Twinsanity, where there are white variations seen in Ice Climb and the Iceberg Lab, in the cave leading to N. Gin's battleship. Bats strike by swooping down at Crash. Red bats are later seen in Boiler Room Doom, where they fly from side to side over pits, leading to an obstacle when crossing them.
It was originally planned that they would appear in the level Jungle Bungle, in which they were going to come out of the caves and spread across the level, and in the level Cavern Catastrophe where they would have attacked Crash and Cortex if they stayed still for too long.
Crash Bandicoot N. Sane Trilogy
Bats are scheduled to reappear in the Crash Bandicoot N. Sane Trilogy where they play the same role as they did in the original version of the game.
Appearances
Gallery
Trivia
There is another unseen bat depicted in a green gem gallery in Crash Twinsanity, along with the white variant. This particular bat is purple and dark red in color and looks to be hanging upside down. It is currently unknown where it would have been encountered, however it likely would have appeared in the Cut Temple Level.
Crash Bandicoot: The Wrath of Cortex
Protagonists
Crash Bandicoot • Aku Aku • Coco Bandicoot • Pura
Antagonists
Doctor Neo Cortex • Crunch Bandicoot • The Elementals (Rok-Ko, Wa-Wa, Lo-Lo and Py-Ro) • Uka Uka • Doctor Nefarious Tropy • Doctor N. Gin • Tiny Tiger • Dingodile
Items
Crates (Basic Crate, ? Crate, ! Crate, Activation Crate, Outline Crate, Crash Crate, Locked Crate, Invisibility Crate, Iron Crate, Iron Arrow Crate, Checkpoint Crate, Arrow Crate, Nitro Crate, Nitro Switch Crate, TNT Crate) • Wumpa Fruit • Crystal • Gem • Relic
Super Powers
Tip Toe • Double Jump • Death Tornado Spin • Fruit Bazooka • Crash Dash (Super Power) • Super Belly Flop
Levels
First Chamber (Arctic Antics, Tornado Alley, Bamboozled, Wizards and Lizards, Compactor Reactor) • Second Chamber (Jungle Rumble, Sea Shell Shenanigans, Banzai Bonsai, That Sinking Feeling, H2 Oh No) • Third Chamber (The Gauntlet, Tsunami, Smokey and the Bandicoot, Eskimo Roll, Fahrenheit Frenzy) • Fourth Chamber (Avalanche, Droid Void, Crashteroids, Coral Canyon, Weathering Heights) • Fifth Chamber (Crash and Burn, Gold Rush, Medieval Madness, Crate Balls of Fire, Cortex Vortex) • Boss Levels (Rumble in the Roks, Drain Damage, Crashes to Ashes, Atmospheric Pressure, Crunch Time) • Sixth Chamber (Knight Time, Ghost Town, Ice Station Bandicoot, Solar Bowler, Force of Nature) • Cut levels (Cut Chinese harbour level, Cut scooter level, Cut Glider level, Cut oriental level, Fire Island)
Enemies
Seal • Penguin • Narwhale • Lab Assistant • Bat • Fish • Lizard • Koi Fish • Crane • Salmon • Robot • Monkey • Parrot • Crab • Donkey • Inflating Cactus • Scorpion • Knight Lab Assistant • Ninja Lab Assistant • Skiing Lab Assistant • Gold Miners
Crash Twinsanity
Protagonists
Crash Bandicoot | Doctor Neo Cortex | Aku Aku | Nina Cortex
Minor Characters
Nitros Oxide | Polar | Crunch Bandicoot | Doctor N. Gin | Doctor Nitrus Brio | Doctor Nefarious Tropy | Ripper Roo | Tiny Tiger | Farmer Ernest | Evil Crash | Pinstripe Potoroo | Koala Kong | Papu Papu | Rusty Walrus | Cortex's mother | Spyro the Dragon | Mecha-Bandicoot | Coco Bandicoot | Removed: Evil Coco | Good Cortex | Capu Capu | Evil Capu Capu | Fake Crash | Komodo Brothers | N. Trance |
Bosses
Doctor Neo Cortex | Mecha-Bandicoot | Tikimon | Uka Uka | Doctor N. Gin | Doctor Nefarious Tropy | Doctor Nitrus Brio | Dingodile | Madame Amberly | Evil Twins | Removed: | Ant Leader | Rusty Walrus
Items
Crates (Crash Crate - Bounce Crate - Basic Crate - ? Crate - Locked Crate - Iron Crate - Iron Arrow Crate - Arrow Crate - Ammo Crate - Nitro Switch Crate - Nitro Crate - TNT Crate - Checkpoint Crate - World Crate - Aku Aku Crate - Detonator Crate - Activation Crate - Outline Crate) - Wumpa Fruit - Crystal - Gem - Weak platforms - Sequence platforms Removed: Unused Robot Crate - Relic - Unused Crate
Levels
N. Sanity Island (Jungle Bungle, Cavern Catastrophe, Totem Hokum) | Iceberg Lab (Ice Climb, Slip Slide Icecapades, High Seas Hi-Jinks) | Academy of Evil (Boiler Room Doom, Classroom Chaos, Rooftop Rampage) | Twinsanity Island (Rockslide Rumble, Bandicoot Pursuit, Ant Agony) | Removed: Gone a Bit Coco, Megalomaniac Mind Mania, Harbor level, Uka Tree level, Lava Caves, Rehab Lab, Security Insanity, Cut Rollerbrawl level, | Train Express | 9th Dimension | 11th Dimension | Canyon Level | Wumpa Island | Komodo Bros. Race | Space Dimension | Temple Level | Ocean Dimension (Coco sub level, Ocean Commotion ) Cut UFO level | Cut Ant lab level | Cut Sport level
Enemies
Crab | Fish | Chicken | Tikimon's Minions | Monkey | Skunk | Venus Fly Trap | Worm | Ant | Rat | Bees | Bear | Tribesman | Hog | Bat | Penguin | Hologram Probe | Barrel Throwing Rhino | Guard Dog | Hall Monitor | Robot Dummy | Robotic Janitor | Experimental Frog | Beetle | Gargolye | Removed: Ant Pet | Flying Swordfish | Greyscale Ant | Pink Elephant | Flowers | Teddy Bear | Robots | Lizards | Pigs | Turtles | Solid Rock Bee | Walking fly trap | Fire-Breathing Creature | Striped Snake | Lab Assistant | Twin Tech Robotic Snake | Lion | Ostrich | Snake Pirates | Pirate Platypus | Piranhas | Sharks | Sea Monster
Ad blocker interference detected!
Wikia is a free-to-use site that makes money from advertising. We have a modified experience for viewers using ad blockers

Wikia is not accessible if you've made further modifications. Remove the custom ad blocker rule(s) and the page will load as expected.