The Bouncing Barrel is a hazard that was first seen in the original Crash Bandicoot game. They are normally thrown by enemies intended to harm Crash. They generally appear as relatively small and brown, with a toxic warning sign painted on.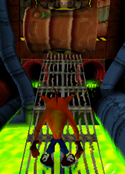 In the first game, the bouncing barrels appeared solely in the level
Toxic Waste
, accompanying the
rolling barrels
. They appeared later on in the level near the end, thrown by enemies down pathways and slanted paths. They could be dodged by passing underneath, jumping above, or jumping around.
Whilst avoiding them when bouncing on the regular paths was simple enough (yet notably more difficult than dodging the rolling barrels), dodging them when on the slanted pathways was notably difficult and one of the biggest challenges on the game, requiring pretty much perfect timing.
They first appear with the penultimate enemy, who threw one bouncing barrel after every two rolling barrels. At this point, it was easy enough to avoid continuing up the hill after waiting for the bouncing barrel to pass. However, the final enemy throws just bouncing barrels, making things more difficult.
The Bouncing Barrels appeared in Crash Twinsanity as well, not being seen as a hazard in levels since the original. They appear on the level High Seas Hi-Jinks, thrown by N. Gin's animal minions on his battleship. This time, they are not thrown straight forward, but appear thrown down a sideways hill, before hitting a wall and bouncing down a different hill in the opposite direction. They are larger now, but bounce slower and it is possible to jump up to the second hill pretty easily, making them easier to deal with than they used to be.
The Bouncing Barrels appear in the Crash Bandicoot N. Sane Trilogy remaster of the first game, reprising the role they had in the original version of the the game.
Appearances
Crash Twinsanity
Protagonists
Crash Bandicoot | Doctor Neo Cortex | Aku Aku | Nina Cortex
Minor Characters
Nitros Oxide | Polar | Crunch Bandicoot | Doctor N. Gin | Doctor Nitrus Brio | Doctor Nefarious Tropy | Ripper Roo | Tiny Tiger | Farmer Ernest | Evil Crash | Pinstripe Potoroo | Koala Kong | Papu Papu | Rusty Walrus | Cortex's mother | Spyro the Dragon | Mecha-Bandicoot | Coco Bandicoot | Removed: Evil Coco | Good Cortex | Capu Capu | Evil Capu Capu | Fake Crash | Komodo Brothers | N. Trance |
Bosses
Doctor Neo Cortex | Mecha-Bandicoot | Tikimon | Uka Uka | Doctor N. Gin | Doctor Nefarious Tropy | Doctor Nitrus Brio | Dingodile | Madame Amberly | Evil Twins | Removed: | Ant Leader | Rusty Walrus
Items
Crates (Crash Crate - Bounce Crate - Basic Crate - ? Crate - Locked Crate - Iron Crate - Iron Arrow Crate - Arrow Crate - Ammo Crate - Nitro Switch Crate - Nitro Crate - TNT Crate - Checkpoint Crate - World Crate - Aku Aku Crate - Detonator Crate - Activation Crate - Outline Crate) - Wumpa Fruit - Crystal - Gem - Weak platforms - Sequence platforms Removed: Unused Robot Crate - Relic
Levels
N. Sanity Island (Jungle Bungle, Cavern Catastrophe, Totem Hokum) | Iceberg Lab (Ice Climb, Slip Slide Icecapades, High Seas Hi-Jinks) | Academy of Evil (Boiler Room Doom, Classroom Chaos, Rooftop Rampage) | Twinsanity Island (Rockslide Rumble, Bandicoot Pursuit, Ant Agony) | Removed: Gone a Bit Coco, Megalomaniac Mind Mania, Harbor level, Uka Tree level, Lava Caves, Rehab Lab, Security Insanity, Cut Rollerbrawl level, | Train Express | 9th Dimension | 11th Dimension | Canyon Level | Wumpa Island | Komodo Bros. Race | Space Dimension | Temple Level | Ocean Dimension (Coco sub level, Ocean Commotion ) Cut UFO level | Cut Ant lab level | Cut Sport level
Enemies
Crab | Fish | Chicken | Tikimon's Minions | Monkey | Skunk | Venus Fly Trap | Worm | Ant | Rat | Bees | Bear | Tribesman | Hog | Bat | Penguin | Hologram Probe | Barrel Throwing Rhino | Guard Dog | Hall Monitor | Robot Dummy | Robotic Janitor | Experimental Frog | Beetle | Gargolye | Removed: Ant Pet | Flying Swordfish | Greyscale Ant | Pink Elephant | Flowers | Teddy Bear | Robots | Lizards | Pigs | Turtles | Solid Rock Bee | Walking fly trap | Fire-Breathing Creature | Striped Snake | Lab Assistant | Twin Tech Robotic Snake | Lion | Ostrich | Snake Pirates | Pirate Platypus | Piranhas | Sharks | Sea Monster
Crash Bandicoot N. Sane Trilogy
Protagonists
Crash Bandicoot | Aku Aku | Tawna | Coco Bandicoot | Fake Crash | Polar | Pura | Penta Penguin | Baby T | Doctor Nitrus Brio (Crash 2 only)
Levels
Crash Bandicoot
N. Sanity Island: N. Sanity Beach • Jungle Rollers • The Great Gate • Boulders • Upstream • Rolling Stones • Hog Wild • Native Fortress


Wumpa Island: Up the Creek • The Lost City • Temple Ruins • Road to Nowhere • Boulder Dash • Whole Hog • Sunset Vista
Cortex Island: Heavy Machinery • Cortex Power • Generator Room • Toxic Waste • The High Road • Slippery Climb • Lights Out • Fumbling in the Dark • Jaws of Darkness • Castle Machinery • The Lab • The Great Hall
DLC: Stormy Ascent

Cortex Strikes Back
Intro


First Warp Room: Turtle Woods, Snow Go, Hang Eight, The Pits, Crash Dash
Second Warp Room: Snow Biz, Air Crash, Bear It, Crash Crush, The Eel Deal
Third Warp Room: Plant Food, Sewer or Later, Bear Down, Road to Ruin, Un-Bearable
Fourth Warp Room: Hangin' Out, Diggin' It, Cold Hard Crash, Ruination, Bee-Having
Fifth Warp Room: Piston It Away, Rock It, Night Fight, Pack Attack, Spaced Out
Sixth Warp Room: Totally Bear, Totally Fly

Warped
First Chamber: Toad Village, Under Pressure, Orient Express, Bone Yard, Makin' Waves


Second Chamber: Gee Wiz, Hang'em High, Hog Ride, Tomb Time, Midnight Run
Third Chamber: Dino Might!, Deep Trouble, High Time, Road Crash, Double Header
Fourth Chamber: Sphynxinator, Bye Bye Blimps, Tell No Tales, Future Frenzy, Tomb Wader
Fifth Chamber: Gone Tomorrow, Orange Asphalt, Flaming Passion, Mad Bombers, Bug Lite
Sixth Chamber: Ski Crazed, Area 51?, Rings of Power
Secret Levels: Hot Coco, Eggipus Rex
Seventh Chamber (DLC): Future Tense

Items
Crates (Basic Crate • Aku Aku Crate • Bounce Crate • Arrow Crate • ? Crate • Time Crate • ! Crate • TNT Crate • Big TNT Crate • Crash Crate • Checkpoint Crate • Iron Crate • Iron Arrow Crate • Nitro Crate • Nitro Switch Crate • Locked Crate • Slot Crate • Iron Checkpoint Crate) | Wumpa Fruit | Gem | Key | Relic | Crystal
Enemies
Crab | Turtle | Skunk | Venus Fly Trap | Monkey | Tribesman | Flying Fish | Bat | Lizard | Snake | Spider | Hog | Holo-Projector | Crawling | Robot | Spiked Saucer | Machine Gunner | Barrel Thrower | Bird | Evil Hand | Lab Assistant | Beaker-Throwing Lab Assistant | Rat | Blob | Electric Lab Assistant | Armadillo | Echidna | Penguin | Seal | Mechanical Piranha | Orca | Electric Eel | Scrubbing Bubbletron | Spike Rat | Sewer Worker Lab Assistant | Parka Lab Assistant | Cyborg Clamidosaur | Gorilla | Possum | Hunter Lab Assistant | Polar Bear | Bee | Sledgehammer Lab Assistant | Spitter Plant | Tiki | Barricading Lab Assistant | Robot Walker | Sparky Tentaclebot Unit | Frog | Goat | Knight Lab Assistant | Moray Eel | Pufferfish | Shark | Pterodactyl | Triceratops | Wave Lab Assistant | Seagull | Wizard Lab Assistant | Scorpion | Crocodile | Bandifish | Arsonist | Double-Headed Lab Assistant | Beetle
Bosses
Papu Papu | Ripper Roo | Koala Kong | Pinstripe Potoroo | Doctor Nitrus Brio (Crash 1 only) | Doctor Neo Cortex | Komodo Brothers | Tiny Tiger | Doctor N. Gin | Dingodile | Doctor Nefarious Tropy | Uka Uka