Classroom Chaos (メチャクチャクラスルーム lit. Messed Classroom in Japanese) is the eleventh level in Crash Twinsanity, the second in the Academy of Evil and the only stage where Cortex goes solo for part of the level. It continues on from Boiler Room Doom. The level is very easy for collecting Gems, as they are all pretty much on the main path. Next to Ant Agony and Totem Hokum, it is considered one of the longest levels in the game.
Description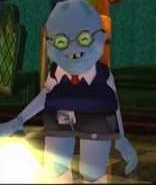 The level starts off as Crash. The player must make their way through several corridors and classrooms and at one point outside where three Guard Dogs await. In certain corridors, there are Hall Monitors which Crash has to hide from, similarly to the Tribesmen in Totem Hokum, looking out for intruders. Eventually, Crash makes it to a library that is filling up fast with green acid, possibly from the underground boiler room. Crash has to make it to the top before he is killed by it.
In the next segment, the player takes control of Cortex, who takes over and tells Crash to go back to the Airship and tie it's ropes to something secure. Like Crash, he has to make his way through classrooms and corridors to reach Nina's dormitory. He uses his Ray Gun to deal with Robot Dummies and monstrous Robotic Janitors, for which he has to ring a bell and students run out trampling it. In certain corridors, Cortex will be chased by beetles and in certain classrooms Cortex will have to defeat test frogs and mice to progress.
Finally, Cortex makes it to Nina's dormitory where Rooftop Rampage begins.
Trivia
The level was supposed to have only one very energetic theme as opposed to two. This theme can be heard in the game's trailer.
This level is one of the 10 skippable levels in the game.
Crash Twinsanity
Protagonists
Crash Bandicoot | Doctor Neo Cortex | Aku Aku | Nina Cortex
Minor Characters
Nitros Oxide | Polar | Crunch Bandicoot | Doctor N. Gin | Doctor Nitrus Brio | Doctor Nefarious Tropy | Ripper Roo | Tiny Tiger | Farmer Ernest | Evil Crash | Pinstripe Potoroo | Koala Kong | Papu Papu | Rusty Walrus | Cortex's mother | Spyro the Dragon | Mecha-Bandicoot | Coco Bandicoot | Removed: Evil Coco | Good Cortex | Capu Capu | Evil Capu Capu | Fake Crash | Komodo Brothers | N. Trance |
Bosses
Doctor Neo Cortex | Mecha-Bandicoot | Tikimon | Uka Uka | Doctor N. Gin | Doctor Nefarious Tropy | Doctor Nitrus Brio | Dingodile | Madame Amberly | Evil Twins | Removed: | Ant Leader | Rusty Walrus
Items
Crates (Crash Crate - Bounce Crate - Basic Crate - ? Crate - Locked Crate - Iron Crate - Iron Arrow Crate - Arrow Crate - Ammo Crate - Nitro Switch Crate - Nitro Crate - TNT Crate - Checkpoint Crate - World Crate - Aku Aku Crate - Detonator Crate - Activation Crate - Outline Crate) - Wumpa Fruit - Crystal - Gem - Weak platforms - Sequence platforms Removed: Unused Robot Crate - Relic
Levels
N. Sanity Island (Jungle Bungle, Cavern Catastrophe, Totem Hokum) | Iceberg Lab (Ice Climb, Slip Slide Icecapades, High Seas Hi-Jinks) | Academy of Evil (Boiler Room Doom, Classroom Chaos, Rooftop Rampage) | Twinsanity Island (Rockslide Rumble, Bandicoot Pursuit, Ant Agony) | Removed: Gone a Bit Coco, Megalomaniac Mind Mania, Harbor level, Uka Tree level, Lava Caves, Rehab Lab, Security Insanity, Cut Rollerbrawl level, | Train Express | 9th Dimension | 11th Dimension | Canyon Level | Wumpa Island | Komodo Bros. Race | Space Dimension | Temple Level | Ocean Dimension (Coco sub level, Ocean Commotion ) Cut UFO level | Cut Ant lab level | Cut Sport level
Enemies
Crab | Fish | Chicken | Tikimon's Minions | Monkey | Skunk | Venus Fly Trap | Worm | Ant | Rat | Bees | Bear | Tribesman | Hog | Bat | Penguin | Hologram Probe | Barrel Throwing Rhino | Guard Dog | Hall Monitor | Robot Dummy | Robotic Janitor | Experimental Frog | Beetle | Gargolye | Removed: Ant Pet | Flying Swordfish | Greyscale Ant | Pink Elephant | Flowers | Teddy Bear | Robots | Lizards | Pigs | Turtles | Solid Rock Bee | Walking fly trap | Fire-Breathing Creature | Striped Snake | Lab Assistant | Twin Tech Robotic Snake | Lion | Ostrich | Snake Pirates | Pirate Platypus | Piranhas | Sharks | Sea Monster
Ad blocker interference detected!
Wikia is a free-to-use site that makes money from advertising. We have a modified experience for viewers using ad blockers

Wikia is not accessible if you've made further modifications. Remove the custom ad blocker rule(s) and the page will load as expected.