Crabs are decapod crustaceans of the infraorder Brachyura, which are generally covered with a thick exoskeleton and come armed with a pair of pincers. In the Crash universe, they also make a few appearances as generic enemies as well.
Appearances
Crabs are the first enemies encountered in this game, and, by extension, the entire series. They only appear in the beach section of the level N. Sanity Beach. They do not directly attack Crash. Instead, they simply walk from side to side while blindly snapping their pincers. They are easily defeated with a jump or spin attack.
A crab makes a cameo appearance in the first ending, passing by Crash and Coco as she wonders what happened to Doctor Neo Cortex and his Cortex Vortex.
Crabs make a reappearance in the level Crash and Burn, where they randomly scuttle from left to right, shadowboxing at Crash. They can first be found at the beginning of the level when crossing the dock after riding the turtle there. When Crash gets near them, they start punching the air with their pincers.
Crabs reappear as generic enemies. They appear on N. Sanity Beach and
Jungle Bungle
where they block Crash by his every movement.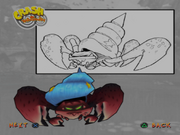 Their appearance seems to be a deliberate throwback to the first game in the series. However, these crabs wear shells, implying that they are hermit crabs and, therefore, not the same crabs that Crash fought in
Crash Bandicoot
. In this game, they can dig underground to pop out of the sand to ambush Crash.
Crabs were going to be one of the enemies in Crash Landed before it was cancelled. This enemy only appeared in the DS demo version.
Skylanders: Imaginators
Crabs reappear in Skylanders: Imaginators in the Crash Bandicoot-themed level Thumpin' Wumpa Islands, under the name Bongo Beat Crabs. They are introduced with Hula Chompies.
Their appearance is very similar to how they appeared in the first game, except now they have bongo drums on their back that they beat with their pincers, and they move and attack in time to the music.
Crash Bandicoot: N. Sane Trilogy
Crabs are scheduled to reappear in the Crash Bandicoot N. Sane Trilogy.
Personality
As for having three different species, they all have different personalities, some holding no malice and some with the urge to fight.
Crash 1 and 2: These ones have been shown to hold no malice towards visitors or locals, but they are constantly snapping their claws and accidentally harming anything near. As an example, the crab in the regular ending of Cortex Strikes Back simply walks by Crash and Coco without attacking them or running into them.
Crash Bandicoot: The Wrath of Cortex: These crabs seem to have the urge to guard their perimeter by shadowboxing from left to right, trying to block out anything coming their way.
Crash Twinsanity: These ones have a much more aggressive personality by ambushing anything that comes by, popping out of the sand to attack it. Crabs in the Jungle seem to try to block creatures out of their perimeter like the previous Crab.
Locations
These crabs have bred in different places, but almost never off of N. Sanity Island. This is demonstrated in Crash Bandicoot: The Wrath of Cortex, where the first Crab off of N. Sanity Island is seen on the volcanic island in Crash and Burn, but of a different species. Hermit crabs have been seen living on N. Sanity Beach in Twinsanity, and oddly enough, in the jungle, but not too far from the beach, making only three appearances there.
Types
The crabs in the Crash Bandicoot series make appearances in several games, but they don't all look or act the same.
The original crab is red and walks from side to side. This type appears in Crash Bandicoot and Cortex Strikes Back.
In The Wrath of Cortex these ones too walk from left to right, but shadowbox at Crash.
In Twinsanity, these crabs walk entirely randomly, even walking over rocks and digging into the sand and popping out in random areas.
Gallery
Trivia
The appearance of crabs as enemies in the Crash games appears to be a reference to the many famous crab enemies from Nintendo's rival Mario series, including Sidesteppers from Mario Bros. and Clawgrip from the true Super Mario Bros. 2.
The crab was the very first enemy ever to be introduced in the series.
Crash Twinsanity
Protagonists
Crash Bandicoot | Doctor Neo Cortex | Aku Aku | Nina Cortex
Minor Characters
Nitros Oxide | Polar | Crunch Bandicoot | Doctor N. Gin | Doctor Nitrus Brio | Doctor Nefarious Tropy | Ripper Roo | Tiny Tiger | Farmer Ernest | Evil Crash | Pinstripe Potoroo | Koala Kong | Papu Papu | Rusty Walrus | Cortex's mother | Spyro the Dragon | Mecha-Bandicoot | Coco Bandicoot | Removed: Evil Coco | Good Cortex | Capu Capu | Evil Capu Capu | Fake Crash | Komodo Brothers | N. Trance |
Bosses
Doctor Neo Cortex | Mecha-Bandicoot | Tikimon | Uka Uka | Doctor N. Gin | Doctor Nefarious Tropy | Doctor Nitrus Brio | Dingodile | Madame Amberly | Evil Twins | Removed: | Ant Leader | Rusty Walrus
Items
Crates (Crash Crate - Bounce Crate - Basic Crate - ? Crate - Locked Crate - Iron Crate - Iron Arrow Crate - Arrow Crate - Ammo Crate - Nitro Switch Crate - Nitro Crate - TNT Crate - Checkpoint Crate - World Crate - Aku Aku Crate - Detonator Crate - Activation Crate - Outline Crate) - Wumpa Fruit - Crystal - Gem - Weak platforms - Sequence platforms Removed: Unused Robot Crate - Relic - Unused Crate
Levels
N. Sanity Island (Jungle Bungle, Cavern Catastrophe, Totem Hokum) | Iceberg Lab (Ice Climb, Slip Slide Icecapades, High Seas Hi-Jinks) | Academy of Evil (Boiler Room Doom, Classroom Chaos, Rooftop Rampage) | Twinsanity Island (Rockslide Rumble, Bandicoot Pursuit, Ant Agony) | Removed: Gone a Bit Coco, Megalomaniac Mind Mania, Harbor level, Uka Tree level, Lava Caves, Rehab Lab, Security Insanity, Cut Rollerbrawl level, | Train Express | 9th Dimension | 11th Dimension | Canyon Level | Wumpa Island | Komodo Bros. Race | Space Dimension | Temple Level | Ocean Dimension (Coco sub level, Ocean Commotion ) Cut UFO level | Cut Ant lab level | Cut Sport level
Enemies
Crab | Fish | Chicken | Tikimon's Minions | Monkey | Skunk | Venus Fly Trap | Worm | Ant | Rat | Bees | Bear | Tribesman | Hog | Bat | Penguin | Hologram Probe | Barrel Throwing Rhino | Guard Dog | Hall Monitor | Robot Dummy | Robotic Janitor | Experimental Frog | Beetle | Gargolye | Removed: Ant Pet | Flying Swordfish | Greyscale Ant | Pink Elephant | Flowers | Teddy Bear | Robots | Lizards | Pigs | Turtles | Solid Rock Bee | Walking fly trap | Fire-Breathing Creature | Striped Snake | Lab Assistant | Twin Tech Robotic Snake | Lion | Ostrich | Snake Pirates | Pirate Platypus | Piranhas | Sharks | Sea Monster
Ad blocker interference detected!
Wikia is a free-to-use site that makes money from advertising. We have a modified experience for viewers using ad blockers

Wikia is not accessible if you've made further modifications. Remove the custom ad blocker rule(s) and the page will load as expected.