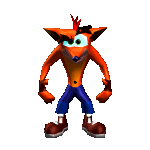 The Crash Dance happens in Crash Bandicoot 2: Cortex Strikes Back and Crash Bandicoot 3: Warped whenever Crash gets or finds a gem and arrives in the warp room. He also does it when he wins a race in Crash Team Racing and Crash Nitro Kart. At the end of Crash Twinsanity, his nemesis Dr. Neo Cortex ends up in Crash's brain after a scheme backfired, and was surrounded by miniature versions of Crash, all of whom proceeded to perform the Crash Dance with the poor doctor grabbing his hair screaming. The dance also appeared in the Japanese version of Crash Tag Team Racing, and all versions of Crash of the Titans and Crash: Mind over Mutant where Crash would sometimes do the dance when standing still for a while. Coco would also sometimes imitate the dance as an idle animation in the latter.
In the intro to the Japanese version of Crash Bandicoot: Warped, Crash does an extended version of his usual dance, which is seen in various Japanese Crash ads.
In Crash Bandicoot 3: Warped, getting 100% complete will include an Easter egg in a few stages where Fake Crash could be seen dancing (obviously referencing the Crash Dance).
Moves
The Crash Dance is as follows:
Hold your hands at sides and shake them.
Quarter-turn to the right and repeat step 1.
Quarter-turn back to the left, where you began. Hold your hands above your head, palms inward, and bring them down to groin/hip level.
Quarter-turn back right, as you did in step 2. Repeat step 3.
Quarter-turn left, then thrust your hips forward three times in rapid succession. (Alternatively, thrust your hips forward five times while quarter-turning from left to right, then skip to step 7.)
Quarter-turn right, and repeat step 5.
Face forward, in-between where step 1 and 2 had you face. Crouch down, spread out your arms and bend them downward as if you are tip-toeing.
Keeping your left foot on the ground, step with your right foot until you are facing the opposite direction.
Without moving your feet, half-turn your upper body, as if you were trying to surprise someone (If it helps, imagine you are playing peek-a-boo with a small child).
Variations
Manga
Instead of step 5, snap your fingers with your body facing right, as your head faces forward while winking.
On step 6, thrust your hips only once.
Ignore steps 3 and 4.
"The Coco Dance"
Coco Bandicoot also has her own version of the Crash Dance.
Manga
A small section of the Crash Dance can be seen in Dansu! De Jump! Na Daibouken!. The section shown is when Crash puts out his fists and brings then back in. Crash does the small section of the dance when Crash and Aku Aku get their first "Power Stone". Also, at the end of Chapter 7 (Volume 1), it gives details on how to do the dance. The dance is a bit modified though. On step 2, it shows Crash snapping his fingers and step 3, it shows Crash's palms facing sideways.
Video
Gallery
Trivia
The dance is widely known by fans. Surprisingly enough, the dance was actually created by the Japanese according to Crash's creators in an interview.
In the N Sane Trilogy, the pelvic thrusts were replaced with the Running Man.
Crash Bandicoot 2: Cortex Strikes Back
Protagonists
Crash Bandicoot • Aku Aku • Coco Bandicoot • Doctor Nitrus Brio • Polar
Bosses
Ripper Roo • Komodo Brothers • Tiny Tiger • Doctor N. Gin • Doctor Neo Cortex
Items
Crates (Basic Crate, ? Crate, Bounce Crate, Aku Aku Crate, Checkpoint Crate, Crash Crate, Arrow Crate, Locked Crate, TNT Crate, Nitro Crate, Nitro Switch Crate, ! Crate, Iron Crate, Iron Arrow Crate) • Wumpa Fruit • Crystal • Gem
Levels
Intro, First Warp Room (Turtle Woods, Snow Go, Hang Eight, The Pits, Crash Dash) • Second Warp Room (Snow Biz, Air Crash, Bear It, Crash Crush, The Eel Deal) • Third Warp Room (Plant Food, Sewer or Later, Bear Down, Road to Ruin, Un-Bearable) • Fourth Warp Room (Hangin' Out, Diggin' It, Cold Hard Crash, Ruination, Bee-Having) • Fifth Warp Room (Piston It Away, Rock It, Night Fight, Pack Attack, Spaced Out) • Sixth Warp Room (Totally Bear, Totally Fly)
Enemies
Armadillo • Bee • Cyborg Clamidosaur • Echidna • Electric Eel • Gorilla • Lab Assistant • Lizard • Mechanical Piranha • Mole • Monkey • Orca • Penguin • Polar Bear • Possum • Rat • Robot Walker • Scrubbing Bubbletron • Seal • Sparky Tentaclebot Unit • Spike Rat • Spiked Saucer • Spitter Plant • Tiki • Turtle • Venus Fly Trap
Crash Bandicoot 3: Warped
Protagonists
Crash Bandicoot | Aku Aku | Coco Bandicoot | Pura | Penta Penguin | Baby T | Polar | Fake Crash
Bosses
Tiny Tiger | Dingodile | Doctor Nefarious Tropy | Doctor N. Gin | Doctor Neo Cortex | Uka Uka
Items
Crates | Wumpa Fruit | Crystals | Gems | Relics
Levels
First Chamber (Toad Village, Under Pressure, Orient Express, Bone Yard, Makin' Waves) | Second Chamber (Gee Wiz, Hang'em High, Hog Ride, Tomb Time, Midnight Run) | Third Chamber (Dino Might!, Deep Trouble, High Time, Road Crash, Double Header) | Fourth Chamber (Sphynxinator, Bye Bye Blimps, Tell No Tales, Future Frenzy, Tomb Wader) | Fifth Chamber (Gone Tomorrow, Orange Asphalt, Flaming Passion, Mad Bombers, Bug Lite) | Sixth Chamber (Ski Crazed, Area 51?, Rings of Power) | Secret Levels (Hot Coco, Eggipus Rex)
Enemies
Bandifish | Beetle | Snake | Arsonist | Crocodile | Eel | Goat | Lab Assistant | Monkey | Pufferfish | Scorpion | Seagull | Shark | Triceratops | Pterodactyl | Wave Lab Assistant | Double-Headed Lab Assistant | Wizard Lab Assistant | Frog
Crash Twinsanity
Protagonists
Crash Bandicoot | Doctor Neo Cortex | Aku Aku | Nina Cortex
Minor Characters
Nitros Oxide | Polar | Crunch Bandicoot | Doctor N. Gin | Doctor Nitrus Brio | Doctor Nefarious Tropy | Ripper Roo | Tiny Tiger | Farmer Ernest | Evil Crash | Pinstripe Potoroo | Koala Kong | Papu Papu | Rusty Walrus | Cortex's mother | Spyro the Dragon | Mecha-Bandicoot | Coco Bandicoot | Removed: Evil Coco | Good Cortex | Capu Capu | Evil Capu Capu | Fake Crash | Komodo Brothers | N. Trance |
Bosses
Doctor Neo Cortex | Mecha-Bandicoot | Tikimon | Uka Uka | Doctor N. Gin | Doctor Nefarious Tropy | Doctor Nitrus Brio | Dingodile | Madame Amberly | Evil Twins | Removed: | Ant Leader | Rusty Walrus
Items
Crates (Cortex Crate - Crash Crate - Nina Crate - Bounce Crate - Basic Crate - ? Crate - Locked Crate - Iron Crate - Iron Arrow Crate - Arrow Crate - Ammo Crate - Nitro Switch Crate - Nitro Crate - TNT Crate - Checkpoint Crate - World Crate - Aku Aku Crate - Uka Uka Crate - Detonator Crate - Activation Crate - Outline Crate) - Wumpa Fruit - Crystal - Gem - Weak platforms - Sequence platforms Removed: Relic
Levels
N. Sanity Island (Jungle Bungle, Cavern Catastrophe, Totem Hokum) | Iceberg Lab (Ice Climb, Slip Slide Icecapades, High Seas Hi-Jinks) | Academy of Evil (Boiler Room Doom, Classroom Chaos, Rooftop Rampage) | Twinsanity Island (Rockslide Rumble, Bandicoot Pursuit, Ant Agony) | Removed: Gone a Bit Coco, Megalomaniac Mind Mania, Harbor level, Uka Tree level, Lava Caves, Rehab Lab, Security Insanity, Cut Rollerbrawl level, | Train Express | 9th Dimension | 11th Dimension | Canyon Level | Wumpa Island | Komodo Bros. Race | Space Dimension | Temple Level | Ocean Dimension (Coco sub level, Ocean Commotion ) Cut UFO level | Cut Ant lab level | Cut Sport level
Enemies
Crab | Chicken | Tikimon's Minions | Monkey | Skunk | Venus Fly Trap | Worm | Ant | Rat | Bees | Bear | Tribesman | Hog | Bat | Penguin | Hologram Probe | Barrel Throwing Rhino | Guard Dog | Hall Monitor | Robot Dummy | Robotic Janitor | Experimental Frog | Beetle | Gargolye | Removed: Ant Pet | Flying Swordfish | Greyscale Ant | Pink Elephant | Flowers | Teddy Bear | Robots | Pigs | Turtles | Solid Rock Bee | Walking fly trap | Fire-Breathing Creature | Striped Snake | Lab Assistant | Twin Tech Robotic Snake | Lion | Ostrich | Snake Pirates | Pirate Platypus | Piranhas | Sharks | Sea Monster