This article is about a level in Crash Bandicoot 2: Cortex Strikes Back. For information about other uses, see here.
Crash Dash




Info
Level Number
5 (Warp Room 1)
Number of crates
44 (17 in bonus)
Gem type
Power Crystal, Clear Gem
Previous level
The Pits
Next level
Snow Biz
Crash Dash
(ゆきだま ゴロゴロ lit.
Snowball Rattle-rattle
in Japanese) is the fifth, and sequentially, final level in the first
Warp Room
, in the game
Crash Bandicoot 2: Cortex Strikes Back
. It is a hazard escape type level, a level type often used in the
Crash Bandicoot series
, although primarily seen more often in the earlier games. The main goal of the level is to, of course, acquire the
crystal
, as well as to avoid electric land mines, which won't kill
Crash
, but will slow him down instead. Other hazards to avoid would be the electric fences, which will kill Crash, as well as snowy
boulders
.
Types of crates
Stage parameters
Aku Aku Crates: 2
TNT Crates: 2 (2 in bonus)
Nitro Crates: 4 (none in bonus)
Other Crates: 36 (15 in bonus)
Walkthrough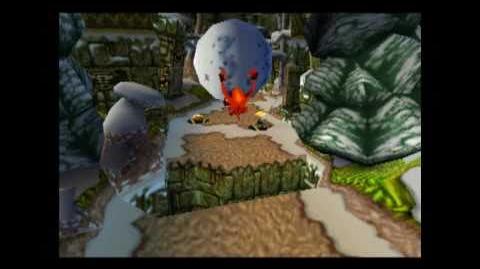 Environment
The level takes place on N. Sanity Island or Wumpa Island, possibly in a more northern area than the boulder levels in the first Crash Bandicoot game, Boulders and Boulder Dash, and probably in the mountains due to the many evergreens and snowy atmosphere. Much of the forest in this level is full of the ancient ruins that dot most of the Wumpa Islands throughout the game. The bonus round appears to take place in the highest trees of the forest surrounding the mountain, quite similar to the Tawna bonus rounds in the first Crash Bandicoot game.
Enemies
| Enemy Picture | Enemy Description |
| --- | --- |
| | Electric Land Mines - One of these harmful objects won't kill Crash, but will burst under him, throwing him on his bottom in shock temporarily. |
| | Electric Fences - These fences consist of two poles with three beams of electricity surging between them. They are impossible to be jumped over, and must be avoided. |
| | Snowy Boulders - Snowy boulders jar loose from their resting place atop the ruined temples and roll along the ground towards Crash, forcing him to run blindly away from it. |
Gallery
Viewing Level
Level:
Bonus:
Trivia
Crash Bandicoot 2: Cortex Strikes Back
Protagonists
Crash Bandicoot • Aku Aku • Coco Bandicoot • Doctor Nitrus Brio • Polar
Bosses
Ripper Roo • Komodo Brothers • Tiny Tiger • Doctor N. Gin • Doctor Neo Cortex
Items
Crates (Basic Crate, ? Crate, Bounce Crate, Aku Aku Crate, Checkpoint Crate, Crash Crate, Arrow Crate, Locked Crate, TNT Crate, Nitro Crate, Nitro Switch Crate, ! Crate, Iron Crate, Iron Arrow Crate) • Wumpa Fruit • Crystal • Gem
Levels
Intro, First Warp Room (Turtle Woods, Snow Go, Hang Eight, The Pits, Crash Dash) • Second Warp Room (Snow Biz, Air Crash, Bear It, Crash Crush, The Eel Deal) • Third Warp Room (Plant Food, Sewer or Later, Bear Down, Road to Ruin, Un-Bearable) • Fourth Warp Room (Hangin' Out, Diggin' It, Cold Hard Crash, Ruination, Bee-Having) • Fifth Warp Room (Piston It Away, Rock It, Night Fight, Pack Attack, Spaced Out) • Sixth Warp Room (Totally Bear, Totally Fly)
Enemies
Armadillo • Bee • Bird • Cyborg Clamidosaur • Echidna • Electric Eel • Gorilla • Lab Assistant • Lizard • Mechanical Piranha • Monkey • Orca • Penguin • Polar Bear • Possum • Rat • Robot Walker • Scrubbing Bubbletron • Seal • Sparky Tentaclebot Unit • Spike Rat • Spiked Saucer • Spitter Plant • Tiki • Turtle • Venus Fly Trap
Ad blocker interference detected!
Wikia is a free-to-use site that makes money from advertising. We have a modified experience for viewers using ad blockers

Wikia is not accessible if you've made further modifications. Remove the custom ad blocker rule(s) and the page will load as expected.