The subject of this article does not have an official name.
The name currently in use is a fan designator. Please see below for more information.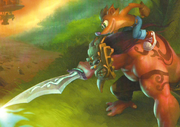 The
Unused Human-like Titans
were, as the name implies,
Titans
with the characteristics of a large human-being.
Crash
can be seen on top of it in the original cover art for
Crash of the Titans
. It appears to be the only Titan to wield a weapon to fight, with it using a glowing sword. It wears a mask, has tattoos, and appears to be crossed with an ape.
Ad blocker interference detected!
Wikia is a free-to-use site that makes money from advertising. We have a modified experience for viewers using ad blockers

Wikia is not accessible if you've made further modifications. Remove the custom ad blocker rule(s) and the page will load as expected.