The subject of this article does not have an official name.
The name currently in use is a fan designator. Please see below for more information.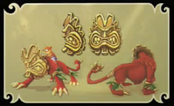 The
Cut Titan
is a removed
Titan
from
Crash of the Titans
. It looks like a cat, possibly a tiger or lion, but is wearing bracelets and an angry, golden mask. It is clearly not currently known what the titan is named. This titan appears in the Crash of the Titans "
Voodoo Doll
" concept art.
Gallery
Ad blocker interference detected!
Wikia is a free-to-use site that makes money from advertising. We have a modified experience for viewers using ad blockers

Wikia is not accessible if you've made further modifications. Remove the custom ad blocker rule(s) and the page will load as expected.