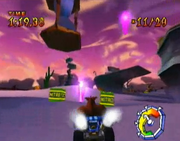 Desert Storm
(さばくのはぐるまアリーナ lit.
Gear Arena in the Desert
in Japanese) is the third arena in
Crash Nitro Kart
 and the battle arena of
Fenomena
. Hourglasses can be seen turning overhead. The music here is the same as the one used for the track
Thunder Struck
.
Number of crystals: 20
Time Limit: 2:00:00
Gallery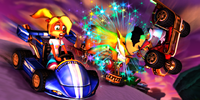 Expansion required
This article is too short to provide more than rudimentary information about the subject. You can help the
Crash Bandicoot
Wiki by
expanding it
.
Crash Nitro Kart
Racers
Team Bandicoot (Crash Bandicoot, Coco Bandicoot, Crunch Bandicoot, Fake Crash) | Team Cortex (Doctor Neo Cortex, Doctor N. Gin, Tiny Tiger, Doctor Nefarious Tropy) | Team Oxide (Nitros Oxide, Zem, Zam, Velo) | Team Trance (N. Trance, Polar, Dingodile, Pura) | GBA Only (Krunk, Nash, Norm, Geary, Spyro the Dragon) | Removed: (Nina, Doctor Nitrus Brio, Rilla Roo, Komodo Brothers, Ripper Roo)
Bosses
Krunk | Nash | Norm | Geary | Emperor Velo XXVII
Supporting characters
Aku Aku | Uka Uka
Race tracks
Terra (Inferno Island, Jungle Boogie, Tiny Temple) | Barin (Meteor Gorge, Barin Ruins, Deep Sea Driving (Crash Nitro Kart)) | Fenomena (Out of Time, Clockwork Wumpa, Thunder Struck) | Teknee (Assembly Lane, Android Alley, Electron Avenue) | Velo's Vault (Gem Cups, Hyper Spaceway)
Battle Arenas
Temple Turmoil | Frozen Frenzy | Desert Storm | Magnetic Mayhem | Terra Drome
Items
Wumpa Fruit | ? Crates | Trophies | Crystals | Gems | Relics | CNK Tokens | Keys
Power Ups
Missiles | Bowling Bombs | TNT Crates | Static Orbs | N. Tropy Clocks | Turbo | Ice Mines | Power Shields | Aku Aku/Uka Uka/Velo Masks | Tornado Tops |Invisibility | Super Engines | Red Eye Missiles | Removed: Voodoo Doll