Fake Crash, also known as Trash Bandicoot, is a character from the Crash Bandicoot series. As his name implies, he looks like an imitation of the original Crash Bandicoot, except with huge brushy eyebrows, a large round nose and big teeth (which are sometimes either crooked or sharped). He also has a rather goofy voice.
Fake Crash, originally created by Naughty Dog, was inspired by a cheap Crash toy that originated in Japan, with huge eyebrows and teeth. The team started calling it "Trash Bandicoot", and later, "Fake Crash".
Biography
Not much is known about Fake Crash. According to Crash Bandicoot 2: N-Tranced though, Crash and Fake Crash are equal in power (if the instantaneous death upon touch and the 4 hitpoints Fake Crash has doesn't count). Fake Crash has a better connection to the Japanese games than the North American ones. In Crash Team Racing, he has a voice slightly lower than Crash's. He also has his own dance just like Crash.
In Skylanders: Imaginators, his personality is slightly more solidified. He's a lot goofier and is shown to be curious to the point of messing machines up.
Appearances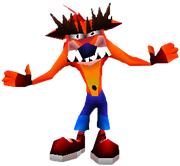 Naughty Dog decided to include Fake Crash as an easter egg in Crash Bandicoot 3: Warped. To see him, a player must get all the crystals and all the gems, and defeat Cortex on the player's save file. Then, he appears dancing (obviously parodying Crash's Dance) in some levels.
Fake Crash can easily be spotted in:
Level 1 - Toad Village, on the lawn of the 3rd house on the right.
Level 5 - Makin' Waves, on a small island near the end of the level.
Level 8 - Hog Ride, seen dancing on the left side of the road (This sighting is not present in the US version for unknown reasons).
Fake Crash appears as an unlockable character. He can be unlocked in CTR by winning the Purple Gem Cup in adventure mode, or by holding down L1 and R1 and pressing circle, down, down, up, circle, circle, down, left, and right, in that order, at the main menu. Fake Crash was probably intended to replace Nitros Oxide in unlocking in order to both irritate and humor the gamers because many players thought that Oxide could be unlocked with the purple gem, but instead they unlock Fake Crash with it.
Stats:
Speed: 5/7
Acceleration: 5/7
Turning: 5/7
Difficulty: Intermediate
Fake Crash appears again as an exclusive secret character of the Japanese version of the game, Crash Bandicoot Carnival. To play as him, the player must press R1 + R2 + Left + Down at the same time in the character select screen. Fake Crash's icon will appear at the bottom of the screen. However, this only works in the Japanese version, and in Versus and Tournament modes only. Since he appears in the bottom, it is unknown if he is evil or good in this game, so he's considered neutral. Also, he looks a bit different in appearance, being a simpler edit of Crash's model.
Fake Crash shares the same abilities as Crash and Coco. His addition in the Japanese version allows a third player to choose a character of the same type, whereas the other types only have two characters available. Fake Crash cannot be selected in Adventure Mode, and the CPU will never select him, meaning that he can only be controlled by the player(s).
In this game, Fake Crash plays a major role instead of being an extra character and is given an origin story. When N. Tropy kidnapped Coco and Crunch, he tried to kidnap Crash, but Aku Aku saved him. N. Tropy, instead, kidnapped Fake Crash. Coco, Crunch and Fake Crash are hypnotized by N. Trance, with Fake Crash being mistaken for real Crash. Fake Crash later appears as the third boss. In this boss fight, he has green pants, and 4 hitpoints. After being defeated, Fake Crash becomes Crash's ally and helps him defeat N. Trance, by pouring lava on him.
Fake Crash also appears in Crash Nitro Kart as an unlockable character. In the console version, he is unlocked by getting 50 or more consecutive boosts in adventure mode as Team Cortex, and off-road on the track Out of Time in the Game Boy Advance version. It has been confirmed that he can't be unlocked in the console version simply by doing 50 boosts inside a hub, such as Velo's Citadel.
Stats:
Console versions Speed: 4/7
Acceleration: 6/7
Turning: 3/7
Difficulty: Intermediate
GBA version
Speed: Excellent
 
Acceleration: Excellent
 
Turning: Good
In Crash Purple he appears in Dragon Castles where in the 2nd pit of the 2nd half he is in chains. When the player talks to him he says nothing. Crash says nothing either. His card will be close by him.
Fake Crash appears as an unlockable character.
Skylanders: Imaginators
Fake Crash appeared in Skylanders: Imaginators as the main (albeit, unintentional) villain of the Thumpin' Wumpa Islands special level. It is unknown whether or not he is now one of Cortex's minions. Fake Crash hijacked Cortex's Matrix Chamber, and terrorized the Wumpa Island by disrupting the island's rhythms, sending Bad Vibes across Wumpa Island, threatening to tear the islands apart.
Vicarious Visions decided to include Fake Crash as an easter egg in all three remastered games. To see him, the player must earn 100% on their save file. Afterwards, Fake Crash will appear dancing in some levels.
Crash Bandicoot

N. Sanity Beach, at the left side of the stone stairs.
Heavy Machinery, in one of the pipes near a platform that takes Crash down to a different path.

Crash Bandicoot 2: Cortex Strikes Back
Crash Bandicoot: Warped
Manga
Fake Crash makes an appearance in Dansu! De Jump! Na Daibouken. Although the character does not physically appear, Cortex disguises himself to be Crash to make Polar tell him where the Power Stone (a crystal) is, and ironically the costume resembles Fake Crash.
Appearances
Gallery
See: Fake Crash/Gallery
Trivia
In Crash Team Racing, Fake Crash and N. Tropy are the only two characters not to have their own race track based on themselves. Some people think that Crash Cove is his home track, but this isn't official. It's also most likely Mystery Caves.
Fake Crash is one of the two characters that has been evil, good, and neutral, the other being Penta Penguin. He is evil in CTR (as evidenced by Uka Uka being his invincibility mask), and Crash Bandicoot 2: N-Tranced while being hypnotized. He is good in Crash Nitro Kart and in N-Tranced after being free from his hypnotism. He is neutral in Crash Bash and Crash Boom Bang!, as there is no proof for what side he's supposed to be on in Bash, and because no playable character is meant to be good or evil in Boom Bang!. He also appears in Crash Purple in a dungeon in Spyro the Dragon's world, presumably captured before Crash and Spyro teamed up. He seems to hold no malice towards Crash in this, so again, is neutral. He is also neutral in Warped because he showed no hostility towards anyone nor did he act as a protagonist in any way. In Thumpin' Wumpa Islands, while he is the main antagonist, he doesn't seem to be evil, and merely entered the Cortex Matrix Chamber out of curiosity, and caused trouble out of stupidity.
Despite being an established character prior to the game, his origins were fully revealed in Crash Bandicoot 2: N-Tranced.
Fake Crash's look was greatly modified for the "Racing" series of games. In CTR, his character model was not only shorter than Crash, but also had a uni-brow and teeth that covered his entire mouth, although his N-Tranced look is seen upon his victory dance. He also sounds younger in CTR, sounding around Coco's age, and also speaks in a southern-like drawl. In CTR, all he could do was laugh, while in CNK, he simply spoke Crash's lines replaced with his own accent. In CTR, some players may mistake one of his laughs for the word "Wall," which it isn't. In CNK, however, he went through a drastic overhaul. He now wears green pants, has bigger and bolder eyebrows, abandoning the uni-brow. His eye pupils are also very small, to give him a more menacing look. This however, contradicts any malice in his heart, since he was on Team Bandicoot, and thus, a good character in CNK.
In the game Crash Bandicoot 2: N-Tranced for the Game Boy Advance, while Fake Crash has black eyebrows in the cutscenes; there are grey eyebrows on his face in the warp zone.
His appearance in N-Tranced is almost identical to his appearance in the Naughty Dog games. Without counting the green trousers that he wears in certain parts of the game, the only real difference is the eyebrows which have become wing shaped.
Fake Crash is faster in the GBA version of Crash Nitro Kart, as his speed goes from average to excellent.
The beta version of CTR claimed that Fake Crash thought he was the real deal. According to the beta version, he appeared in The Jerry Springer Show, where a DNA test was held. It ended when Fake Crash tried to dance and a brawl broke out.
It is unknown if Fake Crash is a clone of Crash or not (this information is not said in Crash Bandicoot 3: Warped). N-Tranced implies he's from another dimension.
In Fake Crash's boss fight in Crash Bandicoot 2: N-Tranced, the music played in the background is similar to the music played in Rings of Power.
He was a cut cameo from Crash Twinsanity, where he, along with Crunch, were going to be stranded on a small piece of land near N. Sanity Island.
He is the only playable character in CNK not to appear in any of the promotional desktops, or adventure mode. Pura appears in a promotional desktop, and has a default race time in lap the trial mode, while N. Tropy appears as a racing ghost, and in several promotional desktops. Velo's true form was revealed at the end of adventure mode, and appears as a racing ghost.
For some reason, Fake Crash is a very popular character in Japan, probably since Japan is responsible for the plush that inspired him.
He only appears in the Japanese version of Crash Bash. The reason for this is unknown.
Fake Crash's in-game origins are unknown, but he was inspired by a rather boot leggy looking Crash Bandicoot plushie the creators saw that had exaggerated teeth and eyebrows.
Fake Crash is the first guest character to be a boss in the Skylanders series.
Crash Bandicoot 3: Warped
Protagonists
Crash Bandicoot | Aku Aku | Coco Bandicoot | Pura | Penta Penguin | Baby T | Polar | Fake Crash
Bosses
Tiny Tiger | Dingodile | Doctor Nefarious Tropy | Doctor N. Gin | Doctor Neo Cortex | Uka Uka
Items
Crates | Wumpa Fruit | Crystals | Gems | Relics
Levels
First Chamber (Toad Village, Under Pressure, Orient Express, Bone Yard, Makin' Waves) | Second Chamber (Gee Wiz, Hang'em High, Hog Ride, Tomb Time, Midnight Run) | Third Chamber (Dino Might!, Deep Trouble, High Time, Road Crash, Double Header) | Fourth Chamber (Sphynxinator, Bye Bye Blimps, Tell No Tales, Future Frenzy, Tomb Wader) | Fifth Chamber (Gone Tomorrow, Orange Asphalt, Flaming Passion, Mad Bombers, Bug Lite) | Sixth Chamber (Ski Crazed, Area 51?, Rings of Power) | Secret Levels (Hot Coco, Eggipus Rex)
Enemies
Bandifish | Beetle | Snake | Arsonist | Crocodile | Eel | Goat | Lab Assistant | Monkey | Pufferfish | Scorpion | Seagull | Shark | Triceratops | Pterodactyl | Wave Lab Assistant | Double-Headed Lab Assistant | Wizard Lab Assistant | Frog
Crash Team Racing
Racers
Crash Bandicoot | Doctor Neo Cortex | Coco Bandicoot | Doctor N. Gin | Tiny Tiger | Dingodile | Polar | Pura | Doctor Nefarious Tropy | Fake Crash | Penta Penguin
Bosses
Ripper Roo | Papu Papu | Komodo Joe | Pinstripe Potoroo | Nitros Oxide
Supporting characters
Aku Aku | Uka Uka | Ami | Isabella | Liz | Megumi
Race tracks
N. Sanity Beach (Crash Cove, Roo's Tubes, Mystery Caves, Sewer Speedway) The Lost Ruins (Coco Park, Tiger Temple, Papu's Pyramid, Dingo Canyon) Glacier Park (Blizzard Bluff, Dragon Mines, Polar Pass, Tiny Arena) Citadel City (N. Gin Labs, Cortex Castle, Hot Air Skyway, Oxide Station) Gem Stone Valley (Slide Coliseum, Turbo Track)
Battle Arenas
Skull Rock | Rampage Ruins | Rocky Road | Nitro Court | The North Bowl | Parking Lot | Lab Basement
Items
Trophies | Crystals | Gems | Relics | CTR Tokens | Keys
Power Ups
Missiles | Bowling Bombs | Warp Orbs | Power Shields | N. Tropy Clocks | N. Brio's Beakers | Turbos | Invisibility | Super Engines | Aku Aku/Uka Uka Masks
Crash Bash
Good
Aku Aku | Crash Bandicoot | Coco Bandicoot | Tiny Tiger | Dingodile
Evil
Uka Uka | Doctor Neo Cortex | Doctor Nitrus Brio | Koala Kong | Rilla Roo
Others
Doctor N. Gin | Ripper Roo | Fake Crash
Items
Anvil | Arrow | Balloon | Block | Bomb | Crystal | Electro Stun Beam | Force Field | Gem | Gold Relic | Homing Energy Orb | Hover Boots | Jewel | Lightning | Locked Crate | Mine | Missile | Mushroom | Nitro Crate | Padlock | Platinum Relic | Pogo Stick | Powder Keg | Purple ? and ! crate | Shock Wave | Sonic Ring | Speedy Boots | TNT Crate | Trophy | Vacuum Cleaner | Wumpa Fruit | Z
Minigames
Crate Crush (Jungle Bash, Space Bash, Snow Bash, Drain Bash, Tie Breaker) Polar Push (Polar Panic, Tilt Panic, Melt Panic, Manic Panic) Ballistix (Crashball, Beach Ball, N. Ballism, Sky Balls) Pogo Pandemonium (Pogo Painter, Pogo-a-Gogo, El Pogo Loco, Pogo Padlock, cut minigame) Tank Wars (Desert Fox, Metal Fox, Jungle Fox, Swamp Fox) Crash Dash (Dot Dash, Toxic Dash, Dante's Dash, Splash Dash) Medieval Mayhem (Ring Ding, Dragon Drop, Mallet Mash, Keg Kaboom)
Bosses
Papu Pummel (Papu Papu) | Bearminator (Bearminator) | Big Bad Fox (Komodo Brothers) | Oxide Ride (Nitros Oxide)
Crash Bandicoot 2: N-Tranced
Protagonists
Crash Bandicoot | Aku Aku | Coco Bandicoot | Crunch Bandicoot | Fake Crash
Antagonists
Doctor Nefarious Tropy | N. Trance | Uka Uka | Evil Crunch | Evil Coco
Items
Crates | Wumpa Fruit | Crystals | Gems | Gem Shards | Super Slide | Rocket Jump | Death Tornado Spin | Crash Dash
Levels
First Chamber (Island Intro, Prints of Persia, Lagoony Tunes, Globe Trottin', Pharaoh's Funhouse, Runaway Rug) | Second Chamber (Tiki Torture, Hoppin' Coffins, Barrel Roll, Flockful of Seagulls, Magma Mania) | Third Chamber (Run from the Sun, Now It's Istanbul, Mister Lava Lava, Water Logged, Slip-N-Slidin' Sphinx) | Fourth Chamber (Rocks Can Roll, Rock the Casaba, Eruption Disruption, Spaced Out, King Too Uncommon) | Fifth Chamber (Wild Nile Ride, 101 Arabian Kites, Fire Walker)
Enemies
Arsonist | Beetle |Crocodile | Lab Assistant | Monkey | Scorpion | Seagull | Shark | Snake
Crash Nitro Kart
Racers
Team Bandicoot (Crash Bandicoot, Coco Bandicoot, Crunch Bandicoot, Fake Crash) | Team Cortex (Doctor Neo Cortex, Doctor N. Gin, Tiny Tiger, Doctor Nefarious Tropy) | Team Oxide (Nitros Oxide, Zem, Zam, Velo) | Team Trance (N. Trance, Polar, Dingodile, Pura) | GBA Only (Krunk, Nash, Norm, Geary, Spyro the Dragon) | Removed: (Nina, Doctor Nitrus Brio, Rilla Roo, Komodo Brothers, Ripper Roo)
Bosses
Krunk | Nash | Norm | Geary | Emperor Velo XXVII
Supporting characters
Aku Aku | Uka Uka
Race tracks
Terra (Inferno Island, Jungle Boogie, Tiny Temple) | Barin (Meteor Gorge, Barin Ruins, Deep Sea Driving (Crash Nitro Kart)) | Fenomena (Out of Time, Clockwork Wumpa, Thunder Struck) | Teknee (Assembly Lane, Android Alley, Electron Avenue) | Velo's Vault (Gem Cups, Hyper Spaceway)
Battle Arenas
Temple Turmoil | Frozen Frenzy | Desert Storm | Magnetic Mayhem | Terra Drome
Items
Wumpa Fruit | ? Crates | Trophies | Crystals | Gems | Relics | CNK Tokens | Keys
Power Ups
Missiles | Bowling Bombs | TNT Crates | Static Orbs | N. Tropy Clocks | Turbo | Ice Mines | Power Shields | Aku Aku/Uka Uka/Velo Masks | Tornado Tops |Invisibility | Super Engines | Red Eye Missiles | Removed: Voodoo Doll
Crash Bandicoot N. Sane Trilogy
Protagonists
Crash Bandicoot | Aku Aku | Tawna | Coco Bandicoot | Fake Crash | Polar | Pura | Penta Penguin | Baby T | Doctor Nitrus Brio (Crash 2 only)
Levels
Crash Bandicoot
N. Sanity Island: N. Sanity Beach • Jungle Rollers • The Great Gate • Boulders • Upstream • Rolling Stones • Hog Wild • Native Fortress


Wumpa Island: Up the Creek • The Lost City • Temple Ruins • Road to Nowhere • Boulder Dash • Whole Hog • Sunset Vista
Cortex Island: Heavy Machinery • Cortex Power • Generator Room • Toxic Waste • The High Road • Slippery Climb • Lights Out • Fumbling in the Dark • Jaws of Darkness • Castle Machinery • The Lab • The Great Hall
DLC: Stormy Ascent

Cortex Strikes Back
Intro


First Warp Room: Turtle Woods, Snow Go, Hang Eight, The Pits, Crash Dash
Second Warp Room: Snow Biz, Air Crash, Bear It, Crash Crush, The Eel Deal
Third Warp Room: Plant Food, Sewer or Later, Bear Down, Road to Ruin, Un-Bearable
Fourth Warp Room: Hangin' Out, Diggin' It, Cold Hard Crash, Ruination, Bee-Having
Fifth Warp Room: Piston It Away, Rock It, Night Fight, Pack Attack, Spaced Out
Sixth Warp Room: Totally Bear, Totally Fly

Warped
First Chamber: Toad Village, Under Pressure, Orient Express, Bone Yard, Makin' Waves


Second Chamber: Gee Wiz, Hang'em High, Hog Ride, Tomb Time, Midnight Run
Third Chamber: Dino Might!, Deep Trouble, High Time, Road Crash, Double Header
Fourth Chamber: Sphynxinator, Bye Bye Blimps, Tell No Tales, Future Frenzy, Tomb Wader
Fifth Chamber: Gone Tomorrow, Orange Asphalt, Flaming Passion, Mad Bombers, Bug Lite
Sixth Chamber: Ski Crazed, Area 51?, Rings of Power
Secret Levels: Hot Coco, Eggipus Rex
Seventh Chamber (DLC): Future Tense

Items
Crates (Basic Crate • Aku Aku Crate • Bounce Crate • Arrow Crate • ? Crate • Time Crate • ! Crate • TNT Crate • Big TNT Crate • Crash Crate • Checkpoint Crate • Iron Crate • Iron Arrow Crate • Nitro Crate • Nitro Switch Crate • Locked Crate • Slot Crate • Iron Checkpoint Crate) | Wumpa Fruit | Gem | Key | Relic | Crystal
Enemies
Crab | Turtle | Skunk | Venus Fly Trap | Monkey | Tribesman | Flying Fish | Bat | Lizard | Snake | Spider | Hog | Holo-Projector | Crawling | Robot | Spiked Saucer | Machine Gunner | Barrel Thrower | Bird | Evil Hand | Lab Assistant | Beaker-Throwing Lab Assistant | Rat | Blob | Electric Lab Assistant | Armadillo | Echidna | Penguin | Seal | Mechanical Piranha | Orca | Electric Eel | Scrubbing Bubbletron | Spike Rat | Sewer Worker Lab Assistant | Parka Lab Assistant | Cyborg Clamidosaur | Gorilla | Possum | Hunter Lab Assistant | Polar Bear | Bee | Sledgehammer Lab Assistant | Spitter Plant | Tiki | Barricading Lab Assistant | Robot Walker | Sparky Tentaclebot Unit | Frog | Goat | Knight Lab Assistant | Moray Eel | Pufferfish | Shark | Pterodactyl | Triceratops | Wave Lab Assistant | Seagull | Wizard Lab Assistant | Scorpion | Crocodile | Bandifish | Arsonist | Double-Headed Lab Assistant | Beetle
Bosses
Papu Papu | Ripper Roo | Koala Kong | Pinstripe Potoroo | Doctor Nitrus Brio (Crash 1 only) | Doctor Neo Cortex | Komodo Brothers | Tiny Tiger | Doctor N. Gin | Dingodile | Doctor Nefarious Tropy | Uka Uka