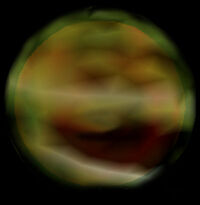 Gasmoxia
is the home planet of
Nitros Oxide
, who soon returned home after his first defeat in
Crash Team Racing
. Not much is known about Gasmoxia at the time, only that it has a dark green moon. However, when Oxide returned as a boss in
Crash Bash
, in the boss level
Oxide Ride
, the battle against him was set in a city on Gasmoxia.
Zam
and
Zem
also come from Gasmoxia, but they are of a different species.
As said before, it is Nitros Oxide, Zam, and Zem's home planet. It looks like a dark green Moon surrounded by poisonous atmosphere. Possibly only gas-proof creatures with green skin can live there.
Ad blocker interference detected!
Wikia is a free-to-use site that makes money from advertising. We have a modified experience for viewers using ad blockers

Wikia is not accessible if you've made further modifications. Remove the custom ad blocker rule(s) and the page will load as expected.