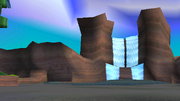 Gem Stone Valley
is the fifth and final hub in
Crash Team Racing
. Although it is the second hub world unlocked, it doesn't have a role in the game until all four
Boss Keys
are obtained. It is the main hub world of the game. There are two race tracks in Gem Stone Valley:
Slide Coliseum
and
Turbo Track
, which the players cannot access until they get ten 
relics
and all five 
gems
, respectively. There is also a room where the
Gem Cups
can be accessed, but two Boss Keys are needed to enter and at least three are needed before the first Cup can be unlocked. The entrance to the race with
Oxide
is here as well. Gem Stone Valley is connected to
N. Sanity Beach
and
The Lost Ruins
.
Trivia
Despite taking place in Citadel City, the player receives the Boss Key from the race with Pinstripe here. The cutscene of Pinstripe talking also takes place in Gem Stone Valley.
Oxide's spaceship is shown to have landed here, but in the opening cutscene of the game, he came down to Earth in his hover-ship.
Crash Team Racing

Racers
Crash Bandicoot | Doctor Neo Cortex | Coco Bandicoot | Doctor N. Gin | Tiny Tiger | Dingodile | Polar | Pura | Doctor Nefarious Tropy | Fake Crash | Penta Penguin
Bosses
Ripper Roo | Papu Papu | Komodo Joe | Pinstripe Potoroo | Nitros Oxide
Supporting characters
Aku Aku | Uka Uka | Ami | Isabella | Liz | Megumi
Race tracks
N. Sanity Beach (Crash Cove, Roo's Tubes, Mystery Caves, Sewer Speedway) The Lost Ruins (Coco Park, Tiger Temple, Papu's Pyramid, Dingo Canyon) Glacier Park (Blizzard Bluff, Dragon Mines, Polar Pass, Tiny Arena) Citadel City (N. Gin Labs, Cortex Castle, Hot Air Skyway, Oxide Station) Gem Stone Valley (Slide Coliseum, Turbo Track)
Battle Arenas
Skull Rock | Rampage Ruins | Rocky Road | Nitro Court | The North Bowl | Parking Lot | Lab Basement
Items
Trophies | Crystals | Gems | Relics | CTR Tokens | Keys
Power Ups
Missiles | Bowling Bombs | Warp Orbs | Power Shields | N. Tropy Clocks | N. Brio's Beakers | Turbos | Invisibility | Super Engines | Aku Aku/Uka Uka Masks
Ad blocker interference detected!
Wikia is a free-to-use site that makes money from advertising. We have a modified experience for viewers using ad blockers

Wikia is not accessible if you've made further modifications. Remove the custom ad blocker rule(s) and the page will load as expected.