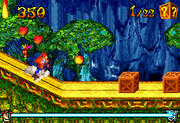 Grin and Bear It
is the first level level in
Crash Bandicoot Purple: Ripto's Rampage
and is unlocked after ten
wumpa fruit
are collected. This minigame plays much like the polar bear levels in previous Crash games, except this time in 2D. There is a
clear gem
in this minigame that is awarded when all of the crates are broken. A little meter on the bottom of the screen will show how close the player is to the finish. Turbo needs to be used to get some of the crates in the level. If
Crash
touches an obstacle without a mask or falls down a pit, he'll turn into a angel and fly out of the level while carrying
Polar
and lose some Wumpa Fruit. If Crash reaches the end, he'll be teleported back to the actual area.
Walkthrough
Controls
Crates
Obstacles
Rising spears
Fire-breathing Tikis
Nitro Crates
Lizards
Ad blocker interference detected!
Wikia is a free-to-use site that makes money from advertising. We have a modified experience for viewers using ad blockers

Wikia is not accessible if you've made further modifications. Remove the custom ad blocker rule(s) and the page will load as expected.