Intro (はじまり lit. Beginning in Japanese) is the introductory level to Crash Bandicoot 2: Cortex Strikes Back. Crash is trying to find an extra battery for Coco's laptop when Dr. Cortex sends him to the warp room. It shows players the basic gameplay mechanics of the game and features some enemies that would next appear in the first level of the game, Turtle Woods. It is so short it can't even be classed as a proper level.
This level is completely optional. It does not contain a crystal or gem. It can be skipped by pressing the start button in the intro cutscene, or by pausing the game during it and exiting to the warp room. Also, if Crash runs out of lives and reaches the game over screen, he will be warped to the first warp room with no chance to return to this level. This level is like Turtle Woods and The Pits, except much shorter. Its purpose is to allow the player to become accustomed to the controls prior to playing a real level. It also allows the player to acquire one more life and an Aku Aku mask before beginning the game.
In Crash Bandicoot N. Sane Trilogy, this level is no longer optional. It still cannot be returned to once completed, but it cannot be skipped anymore, as skipping the intro cutscene will put Crash at the beginning of this level. Getting a Game Over will replay the intro cutscene as well. Also, this level isn't named anymore: the space in the pause screen that normally displays a level's name is blank in this level.
Types of crates
Hazard Count
Gallery
Video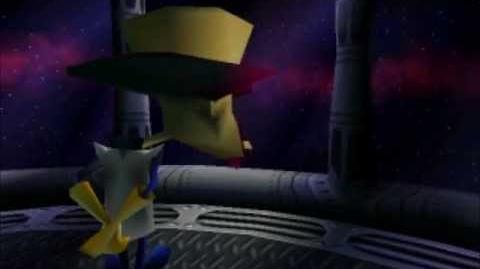 Translation of Aku Aku Hints in the Japanese Version
Yeah, Crash. I'm Aku Aku. I can protect you only once from harms.
Crash Bandicoot 2: Cortex Strikes Back
Protagonists
Crash Bandicoot • Aku Aku • Coco Bandicoot • Doctor Nitrus Brio • Polar
Bosses
Ripper Roo • Komodo Brothers • Tiny Tiger • Doctor N. Gin • Doctor Neo Cortex
Items
Crates (Basic Crate, ? Crate, Bounce Crate, Aku Aku Crate, Checkpoint Crate, Crash Crate, Arrow Crate, Locked Crate, TNT Crate, Nitro Crate, Nitro Switch Crate, ! Crate, Iron Crate, Iron Arrow Crate) • Wumpa Fruit • Crystal • Gem
Levels
Intro, First Warp Room (Turtle Woods, Snow Go, Hang Eight, The Pits, Crash Dash) • Second Warp Room (Snow Biz, Air Crash, Bear It, Crash Crush, The Eel Deal) • Third Warp Room (Plant Food, Sewer or Later, Bear Down, Road to Ruin, Un-Bearable) • Fourth Warp Room (Hangin' Out, Diggin' It, Cold Hard Crash, Ruination, Bee-Having) • Fifth Warp Room (Piston It Away, Rock It, Night Fight, Pack Attack, Spaced Out) • Sixth Warp Room (Totally Bear, Totally Fly)
Enemies
Armadillo • Bee • Bird • Cyborg Clamidosaur • Echidna • Electric Eel • Gorilla • Lab Assistant • Lizard • Mechanical Piranha • Monkey • Orca • Penguin • Polar Bear • Possum • Rat • Robot Walker • Scrubbing Bubbletron • Seal • Sparky Tentaclebot Unit • Spike Rat • Spiked Saucer • Spitter Plant • Tiki • Turtle • Venus Fly Trap
Ad blocker interference detected!
Wikia is a free-to-use site that makes money from advertising. We have a modified experience for viewers using ad blockers

Wikia is not accessible if you've made further modifications. Remove the custom ad blocker rule(s) and the page will load as expected.