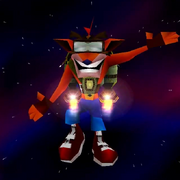 The Jet Pack is an item of transport in the Crash Bandicoot series. The jet pack first appears in Crash Bandicoot 2: Cortex Strikes Back, and is used in two levels: Rock It and Pack Attack. It is also used to chase Doctor Neo Cortex in his boss fight. The jet pack was again used in Crash Bandicoot: The Huge Adventure, and was used in three levels: Rocket Racket, Blimp Bonanza, and No-Fly Zone. It was replaced by the copter pack in Crash Bandicoot: The Wrath of Cortex, but a jet pack was planned to be used in Crash Landed, according to Radical Entertainment.
The jet pack returns in the remade Cortex Strikes Back, Crash Bandicoot N. Sane Trilogy .
Gallery
Ad blocker interference detected!
Wikia is a free-to-use site that makes money from advertising. We have a modified experience for viewers using ad blockers

Wikia is not accessible if you've made further modifications. Remove the custom ad blocker rule(s) and the page will load as expected.