Mecha-Bandicoot
Talk

0
1,431pages on
this wiki
Mecha-Bandicoot
Full Name
Mecha-Bandicoot
First Appearance
Crash Twinsanity(2004)
Species
Robot
Affiliation(s)
Doctor Neo Cortex
Doctor N. Gin
Latest Appearance
Crash Twinsanity
Mecha-Bandicoot
is a 40-foot mechanical version of
Crash Bandicoot
. It was first introduced as a boss fight after the battle between Crash & Cortex, it was shown that
N.Gin
was controlling it through the battle. It is equipped with a chainsaw, rockets, and plasma blasts (that have the same effect as Cortex's gun). After defeating it, it isn't seen again until the final battle between the
Evil Twins
in the
10th Dimension
.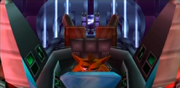 Cortex refers to Mecha-Bandicoot as Crash's "new hydrolically operated twin brother" in his boss fight.
It is unknown how Mecha-Bandicoot got to the 10th Dimension; N. Gin may have taken him there in order to get the treasure of the Evil Twins or Cortex had put him in storage in his lab, which Crash went back to get for after the fight.  It could have been possible that Crash went back to the mines in his dimension to get it, as of which that could explain why he left before Nina fights the Evil Twins.
When the fight with Mecha-Bandicoot begins, it is shown to be able to jump very high, but when you play as him, you can't jump very high.
it is the only boss to be playable as you take control of him in the final boss battle