Minecarts have appeared in the series as obstacles and rides.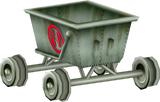 In this game, minecarts appear in Koala Kong's boss fight, and in the Nitrus Brio bonus rounds.
Minecarts appear in the track Dragon Mines where they will squish a racer's kart and make it spin around if they hit them.
Crash rides a minecart in Compactor Reactor to get to one of Cortex's labs. It is later used again in a race against Crunch in Ghost Town who is also in a minecart. In this game Crash can make the minecart go left and right by leaning in a certain direction, and can press up or down to accelerate or decelerate.
Minecarts reappear in the N. Sane Trilogy remaster of the first game where they reprise the same role they had in the original version of the game.
Appearances
Gallery
Crash Team Racing

Racers
Crash Bandicoot | Doctor Neo Cortex | Coco Bandicoot | Doctor N. Gin | Tiny Tiger | Dingodile | Polar | Pura | Doctor Nefarious Tropy | Fake Crash | Penta Penguin
Bosses
Ripper Roo | Papu Papu | Komodo Joe | Pinstripe Potoroo | Nitros Oxide
Supporting characters
Aku Aku | Uka Uka | Ami | Isabella | Liz | Megumi
Race tracks
N. Sanity Beach (Crash Cove, Roo's Tubes, Mystery Caves, Sewer Speedway) The Lost Ruins (Coco Park, Tiger Temple, Papu's Pyramid, Dingo Canyon) Glacier Park (Blizzard Bluff, Dragon Mines, Polar Pass, Tiny Arena) Citadel City (N. Gin Labs, Cortex Castle, Hot Air Skyway, Oxide Station) Gem Stone Valley (Slide Coliseum, Turbo Track)
Battle Arenas
Skull Rock | Rampage Ruins | Rocky Road | Nitro Court | The North Bowl | Parking Lot | Lab Basement
Items
Trophies | Crystals | Gems | Relics | CTR Tokens | Keys
Power Ups
Missiles | Bowling Bombs | Warp Orbs | Power Shields | N. Tropy Clocks | N. Brio's Beakers | Turbos | Invisibility | Super Engines | Aku Aku/Uka Uka Masks
Crash Bandicoot: The Wrath of Cortex
Protagonists
Crash Bandicoot • Aku Aku • Coco Bandicoot • Pura
Antagonists
Doctor Neo Cortex • Crunch Bandicoot • The Elementals (Rok-Ko, Wa-Wa, Lo-Lo and Py-Ro) • Uka Uka • Doctor Nefarious Tropy • Doctor N. Gin • Tiny Tiger • Dingodile
Items
Crates (Basic Crate, ? Crate, ! Crate, Activation Crate, Outline Crate, Crash Crate, Locked Crate, Invisibility Crate, Iron Crate, Iron Arrow Crate, Checkpoint Crate, Arrow Crate, Nitro Crate, Nitro Switch Crate, TNT Crate) • Wumpa Fruit • Crystal • Gem • Relic
Super Powers
Tip Toe • Double Jump • Death Tornado Spin • Fruit Bazooka • Crash Dash (Super Power) • Super Belly Flop
Levels
First Chamber (Arctic Antics, Tornado Alley, Bamboozled, Wizards and Lizards, Compactor Reactor) • Second Chamber (Jungle Rumble, Sea Shell Shenanigans, Banzai Bonsai, That Sinking Feeling, H2 Oh No) • Third Chamber (The Gauntlet, Tsunami, Smokey and the Bandicoot, Eskimo Roll, Fahrenheit Frenzy) • Fourth Chamber (Avalanche, Droid Void, Crashteroids, Coral Canyon, Weathering Heights) • Fifth Chamber (Crash and Burn, Gold Rush, Medieval Madness, Crate Balls of Fire, Cortex Vortex) • Boss Levels (Rumble in the Roks, Drain Damage, Crashes to Ashes, Atmospheric Pressure, Crunch Time) • Sixth Chamber (Knight Time, Ghost Town, Ice Station Bandicoot, Solar Bowler, Force of Nature) • Cut levels (Cut Chinese harbour level, Cut scooter level, Cut Glider level, Cut oriental level, Fire Island)
Enemies
Seal • Penguin • Narwhale • Lab Assistant • Bat • Fish • Lizard • Koi Fish • Crane • Salmon • Robot • Monkey • Parrot • Crab • Donkey • Inflating Cactus • Scorpion • Knight Lab Assistant • Ninja Lab Assistant • Skiing Lab Assistant • Gold Miners
Ad blocker interference detected!
Wikia is a free-to-use site that makes money from advertising. We have a modified experience for viewers using ad blockers

Wikia is not accessible if you've made further modifications. Remove the custom ad blocker rule(s) and the page will load as expected.