Are you ready to start the adventure to save Tawna?
- Level description.
N. Sanity Beach (めざめの ビーチ lit. Awakening Beach in Japanese) is the first level of the first island in Crash Bandicoot and the Crash Bandicoot N. Sane Trilogy remaster of the first game, the first game in the series. It is the only beach type of level in the game.
N. Sanity Beach was one of the two playable levels in the PlayStation Experience 2016 demo of the Crash Bandicoot N. Sane Trilogy along with Heavy Machinery.
Level design
Crash washes up on the shores of N. Sanity Beach after plunging from the window of Doctor Neo Cortex's laboratory. He then shows a mischievous grin, followed by a single spin, informing the player of Crash's basic attack, and the level begins. The sandy path is relatively simple and introduces the player to wumpa fruit, crabs, turtles, bottomless pits, lives (but not inside a Crash crate), basic crates, ? crates, bounce crates, arrow crates and Aku Aku crates (Crash starts with an Aku Aku mask in the NTSC-J version of the game informing of his hints, thus the first Aku Aku crate is not present). At the end of the path, there will be a stone wall that the player must scale which contains crates and many wumpa fruit. There is also a single iron crate which serves no apparent purpose.
At the top, the player will see their first checkpoint crate, and will come to another short sandy path that eventually forks in two. The left path contains two crates, but the right path contains a long crate bridge, the main challenge of the level. The bridge is made up of outline crates, the first in the series, and are "filled" using a nearby ! crate, also the first seen in the series, turning each crate into a basic one, except the penultimate crate turns to a Crash crate. This introduces the player to the concept of backtracking, as the player is required to head down one path then head back for the other if they seek the gem. This concept is revised in a more extreme, difficult fashion later on in Cortex Power. After the paths join back up, the player will see the exit.
Gem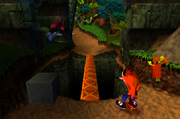 There are 49
crates
in this level. No colored gem is required to get the gem, so this will likely be the first (or one of the first) gems the player will find. Like all levels on the first island, a regular clear gem is the player's reward for breaking every box without dying.
The gem is a fairly easy task, as the path is very simple. A fork in the road is present, but both paths are short so this doesn't create many problems. However, on the right path, there is a crate bridge that complicates matters. Breaking each box on the bridge, one by one, is not an easy task. However, running straight across the bridge with Aku Aku invincibility (conveniently there are three Aku Aku crates in this level, all before the bridge) will break each box as Crash runs, making this hard task easy.
Types of crates
Hazard Count
Stage parameters
Aku Aku Crates: 3 (2 in NTSC-J).
TNT Crates: None.
Other Crates: 46 (69 in Beta).
Tawna Bonus Round Crates: None.
Brio Bonus Round Crates: None.
Cortex Bonus Round Crates: None.
Walkthrough
Tips and strategies
There are three Aku Aku crates in this level. With the three Aku Aku power ups, it is possible to run straight to the crate bridge and cross it before the power up wears off. The power up will cause all of the crates to break as Crash runs across them, avoiding the difficult task of breaking them one by one. If Crash stops running on the bridge with the power up active, he will fall as the crates beneath him break.

This is also a great strategy for completing the Crash Bandicoot N. Sane Trilogy Time Trial in the level because the right path is much shorter than the left one, and since players do not have to worry about collecting all the boxes they can do it with out the triple Aku Aku. However if players do not have the triple Aku Aku power up it will be much more difficult to get the crucial time crates needed to get an even better time. But triple Aku Aku or not players will still get a much better time by going on the right path then they would on the left.

Crash should move a little bit up each time he breaks a box on the bridge.
Password
This corresponds to the save file with only the gem on N. Sanity Beach and no other progress in the game (1%).
Appearances in other games
The beach itself is also featured in Crash Team Racing as the very first hub world visited in the game's Adventure Mode, where the player is immediately dropped after selecting their character. It houses the tracks Crash Cove, Roo's Tubes, Mystery Caves and Sewer Speedway. The champion racer of them is none other than Ripper Roo. The entrance to Ripper Roo's challenge is on the other side of where the racing podium is. The beach also has the crystal challenge, Skull Rock.
Translation of Aku Aku Hints in the Japanese Version
I'm Aku Aku, the magician who protects this island. Brutal things are happening in this island, due to Cortex's schemes. Tawna is also captured. Hurry to rescue her.
If I'm attached to your body, I can defend you once from enemies. If you collect two of me, I become shiningly bright and look cool. If you collect three of me, mysterious power will burst out!
Do you know that you can jump on wooden boxes and enemies to destroy them? You can get good things if you try to jump. If you only spin, you eyes will become dizzy.

Note that players don't get the hint if Crash gains invincibility from the mask, like every other hint in the game.
Hazards
Pit - whistle
Crab - spin & fall
Turtle - Spin and fall
Gallery
Trivia
In the prototype version of the game, crates are more abundant (72 total) and are less intrusive in the path (meaning most will be hiding in the sides).

In the same prototype, it is impossible to run across the box bridge while invincible. Crash is unable to run fast enough in this version and as a result, he will fall into the pit.

In the E3 version, there was blue wood.
The level's name is a pun on the word "insanity".
The top of Cortex's Castle can be seen at the very start of the level to the right, just above the wrecked ship.
Crash Team Racing

Racers
Crash Bandicoot | Doctor Neo Cortex | Coco Bandicoot | Doctor N. Gin | Tiny Tiger | Dingodile | Polar | Pura | Doctor Nefarious Tropy | Fake Crash | Penta Penguin
Bosses
Ripper Roo | Papu Papu | Komodo Joe | Pinstripe Potoroo | Nitros Oxide
Supporting characters
Aku Aku | Uka Uka | Ami | Isabella | Liz | Megumi
Race tracks
N. Sanity Beach (Crash Cove, Roo's Tubes, Mystery Caves, Sewer Speedway) The Lost Ruins (Coco Park, Tiger Temple, Papu's Pyramid, Dingo Canyon) Glacier Park (Blizzard Bluff, Dragon Mines, Polar Pass, Tiny Arena) Citadel City (N. Gin Labs, Cortex Castle, Hot Air Skyway, Oxide Station) Gem Stone Valley (Slide Coliseum, Turbo Track)
Battle Arenas
Skull Rock | Rampage Ruins | Rocky Road | Nitro Court | The North Bowl | Parking Lot | Lab Basement
Items
Trophies | Crystals | Gems | Relics | CTR Tokens | Keys
Power Ups
Missiles | Bowling Bombs | Warp Orbs | Power Shields | N. Tropy Clocks | N. Brio's Beakers | Turbos | Invisibility | Super Engines | Aku Aku/Uka Uka Masks
Crash Bandicoot N. Sane Trilogy

Protagonists
Crash Bandicoot | Aku Aku | Tawna | Coco Bandicoot | Fake Crash | Polar | Pura | Penta Penguin | Baby T | Doctor Nitrus Brio (Crash 2 only)
Levels
Crash Bandicoot
N. Sanity Island (N. Sanity Beach • Jungle Rollers • The Great Gate • Boulders • Upstream • Rolling Stones • Hog Wild • Native Fortress) | Wumpa Island (Up the Creek • The Lost City • Temple Ruins • Road to Nowhere • Boulder Dash • Whole Hog • Sunset Vista) | Cortex Island (Heavy Machinery • Cortex Power • Generator Room • Toxic Waste • The High Road • Slippery Climb • Lights Out • Fumbling in the Dark • Jaws of Darkness • Castle Machinery • The Lab • The Great Hall) | DLC (Stormy Ascent)
Cortex Strikes Back
Intro, First Warp Room (Turtle Woods, Snow Go, Hang Eight, The Pits, Crash Dash) • Second Warp Room (Snow Biz, Air Crash, Bear It, Crash Crush, The Eel Deal) • Third Warp Room (Plant Food, Sewer or Later, Bear Down, Road to Ruin, Un-Bearable) • Fourth Warp Room (Hangin' Out, Diggin' It, Cold Hard Crash, Ruination, Bee-Having) • Fifth Warp Room (Piston It Away, Rock It, Night Fight, Pack Attack, Spaced Out) • Sixth Warp Room (Totally Bear, Totally Fly)
Warped
First Chamber (Toad Village, Under Pressure, Orient Express, Bone Yard, Makin' Waves) | Second Chamber (Gee Wiz, Hang'em High, Hog Ride, Tomb Time, Midnight Run) | Third Chamber (Dino Might!, Deep Trouble, High Time, Road Crash, Double Header) | Fourth Chamber (Sphynxinator, Bye Bye Blimps, Tell No Tales, Future Frenzy, Tomb Wader) | Fifth Chamber (Gone Tomorrow, Orange Asphalt, Flaming Passion, Mad Bombers, Bug Lite) | Sixth Chamber (Ski Crazed, Area 51?, Rings of Power) | Secret Levels (Hot Coco, Eggipus Rex)
Items
Crates (Basic Crate • Aku Aku Crate • Bounce Crate • Arrow Crate • ? Crate • Time Crate • ! Crate • TNT Crate • Big TNT Crate • Crash Crate • Checkpoint Crate • Iron Crate • Iron Arrow Crate • Nitro Crate • Nitro Switch Crate • Locked Crate • Slot Crate • Iron Checkpoint Crate) | Wumpa Fruit | Gem | Key | Relic | Crystal
Enemies
Crab | Turtle | Skunk | Venus Fly Trap | Monkey | Tribesman | Flying Fish | Bat | Lizard | Snake | Spider | Hog | Holo-Projector | Crawling | Robot | Spiked Saucer | Machine Gunner | Barrel Thrower | Bird | Evil Hand | Lab Assistant | Beaker-Throwing Lab Assistant | Rat | Blob | Electric Lab Assistant | Armadillo | Echidna | Penguin | Seal | Mechanical Piranha | Orca | Electric Eel | Scrubbing Bubbletron | Spike Rat | Sewer Worker Lab Assistant | Parka Lab Assistant | Cyborg Clamidosaur | Gorilla | Possum | Hunter Lab Assistant | Polar Bear | Bee | Sledgehammer Lab Assistant | Spitter Plant | Tiki | Barricading Lab Assistant | Robot Walker | Sparky Tentaclebot Unit | Frog | Goat | Knight Lab Assistant | Moray Eel | Pufferfish | Shark | Pterodactyl | Triceratops | Wave Lab Assistant | Seagull | Wizard Lab Assistant | Scorpion | Crocodile | Bandifish | Arsonist | Double-Headed Lab Assistant | Beetle
Bosses
Papu Papu | Ripper Roo | Koala Kong | Pinstripe Potoroo | Doctor Nitrus Brio (Crash 1 only) | Doctor Neo Cortex | Komodo Brothers | Tiny Tiger | Doctor N. Gin | Dingodile | Doctor Nefarious Tropy | Uka Uka
Ad blocker interference detected!
Wikia is a free-to-use site that makes money from advertising. We have a modified experience for viewers using ad blockers

Wikia is not accessible if you've made further modifications. Remove the custom ad blocker rule(s) and the page will load as expected.