"
Papu much tired of watching puny slugs race so slow. Papu want in action, to lay boom down big and prove Papu is world's best driver. Papu move so fast, you munch tracks.
"
 
Papu Papu is the leader of the tribesmen who appears on N. Sanity Island. He lives in the native village along with the other tribesmen.
History
Crash Bandicoot
Papu Papu's first appearance was in Crash Bandicoot, where he is the first boss. He is infuriated when Crash awakens him from his slumber in his throne. Papu Papu attacks Crash and a battle ensues. Papu Papu uses his tribal staff to fight Crash; however, the marsupial outsmarts the strong native and defeats him by knocking him out. This is accomplished by jumping on his head when his staff is down on the ground.
In the non-canon ending, he sold the castle ruins of Cortex Castle and opened the Big & Tall Shop to raise more money.
Crash Team Racing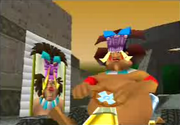 Papu Papu reappears in Crash Team Racing as the second boss in the game. His home track is Papu's Pyramid in The Lost Ruins. He throws both green and red beakers to try to slow his opponent down, both by dropping them and by throwing them backwards. Like Tiny, Dingodile, and Doctor Nefarious Tropy, Papu Papu was a speedy racer at the expense of poor turning and acceleration. He can be unlocked by completing the Green Gem Cup in adventure mode or by holding L1 + R1 buttons while pressing Left, Triangle, Right, Down, Right, Circle, Left, Left and Down on the main menu. His kart is yellow.
After the events of CTR, he became a wrestler and changed his name to "Mr. Bad Belly". Unfortunately, his signature move, the Bad Belly Bounce, was eventually banned after several of its victims suffered severe rope friction burns.
Stats
Speed: 7/7
Acceleration: 3/7
Turning: 1/7
Difficulty: Advanced
Crash Bash
In Crash Bash, Papu Papu is summoned by Uka Uka as the first boss of the game. His battle arena is similar to boards like Jungle Bash, etc. He is surrounded by a ring of fire for protection. He summons Crash clones to fight the player. When they are defeated, Papu Papu laughs, disabling the fire and leaving him vulnerable. At this time, he must be hit with a block or TNT. When his hitpoint is at its lowest, he is ultimately defeated when a block crushes him. After suffering injuries, he goes back to leading his tribe.
Crash Twinsanity
Papu Papu has a minor appearance in Crash Twinsanity. He is first seen when Doctor Neo Cortex reveals he envies the life of the tribesmen in Totem Hokum. Cortex later bumps into Papu Papu, who captures him, takes him to the native village, and has him tied to a totem pole, possibly for some kind of ritual. Crash storms the village and uses a worm to save Cortex. After Crash frees him and destroys the totem pole, Papu Papu sends the rest of the tribe after the Bandicoot.
Crash Bandicoot: N. Sane Trilogy
Papu Papu returned as a boss in Crash Bandicoot N. Sane Trilogy. While his boss fight in the remastered version of Crash Bandicoot is similar to the original one, Papu Papu now sports five hit points instead of three (like in the Japanese version of the original game) and will spin around in the air before collapsing on his back upon his defeat, allowing Crash to use him like a trampoline.
Appearances
Characteristics
Personality
Papu is bilingual, able to speak two languages; English and his native language. In Crash Team Racing, Papu speaks in third-person and with lack of pronouns, much like Tiny Tiger; i.e. "Papu move so fast, you munch tracks". In Crash Twinsanity, however, he speaks his native language, though mostly only to his people.
Despite being a generally neutral character, he is portrayed as an antagonist in all of his appearances to date. While he was merely angered by Crash trespassing, Uka Uka seems to be in good terms with him as seen in CTR and Crash Bash. In Twinsanity, he seems to be working by himself.
Gallery
See: Papu Papu/Gallery
Trivia
In CTR, Papu Papu is the largest playable character, even larger than Tiny, Dingodile, and N. Tropy. While racing, this honor belongs to Nitros Oxide. However, Papu still beats Oxide's size on the podium. Oxide only appears larger on the track because his in-kart model is over-sized, and his kart hovers.
In Crash Twinsanity, there is a glitch where Crash is standing with Papu Papu and his tribesmen when he kidnaps Cortex.
In Crash Twinsanity, Papu Papu is one of the only enemies of Crash's that didn't appear at his "birthday party" (the others being the Komodo Bros, Doctor Nitrus Brio, N. Trance, Rilla Roo, and N. Tropy).
When Crash fights Papu Papu in Crash Bandicoot and during his victory dance in CTR, a plumber's crack is visible.
In the Japanese version of Crash Bandicoot, Papu Papu has 5 hit points instead of 3 and he swings faster whenever he gets hit, making him harder to beat. This happens again in the N. Sane Trilogy.
Papu Papu, along with Komodo Joe, Pinstripe, Penta Penguin, and Ripper Roo do not return as racers in Crash Nitro Kart.
Papu Papu is the first boss ever fought in a Crash Bandicoot game.
He had many hat variations in each one of his appearances.
It is unknown if Papu Papu was affiliated with Cortex in Crash 1, or if Crash just woke him up in his tribal hut triggering his rage; however, in Crash Bash (if the player plays an evil character in adventure mode), Uka Uka refers to him as "an old friend". In Crash Twinsanity, Papu Papu works on his own accord.
In Twinsanity in the worm chase part of Totem Hokum, Crash can go into his hut when he is sleeping. Nothing really happens when Crash goes in, except that he can jump on him.
In CTR, in his character icon, he looks like a whole different character; his chin looks like a happy mouth, his red painted mouth looks like a red nose, and his actual nose somewhat looks like eyes, causing his actual eyes to look like part of his hat.
A small joke is that Papu Papu, when chanting, says the very same chant that Aku Aku does whenever he is summoned. This could hint at the two either knowing each other, being in the same tribe, or they may just be able to speak the same language. If Papu Papu can speak aborigine, then Aku Aku must be speaking the same language, which would explain the same sound being heard from two very different characters.
Throughout the series his character model hasn't changed much with only little changes to his tribal clothes so he looks very similar in all his appearances.
He has made a total of 4 appearances in the series, appearing in two main series games and two spin-offs.
In Crash 1 he can be quickly defeated by jumping on his head as soon as possible three times in a row. The player does not have to wait for any specific moment for to be vulnerable unlike any other bosses in the game.
In Crash Bash he has his yellow hair ornament which was first seen in his artwork for Crash 1.
In some early NTSC copies of CTR Papu Papu had a different icon: his mouth was a darker shade of red and the hair ornament was a blackish grey. He shared this trait with Pinstripe.
Papu Papu is the only human boss in CTR, as well as in Crash Bash. Ripper Roo, the Komodo Brothers, the Bearminator, and Pinstripe are animals, and Oxide is a Gasmoxian, i.e. an alien.
When Crash defeats him in Crash 1, Crash can actually die if Papu Papu falls on him, forcing the boss battle to restart.
Crash Twinsanity is the only game Papu Papu is in where he is not featured as a boss.
Papu Papu bares a resemblance to Dr. Shemp, a witch doctor, and warlord, hired by Gnasty Gnorc to kill Spyro, who is a villain in the Spyro series.
References
Crash Team Racing
Racers
Crash Bandicoot | Doctor Neo Cortex | Coco Bandicoot | Doctor N. Gin | Tiny Tiger | Dingodile | Polar | Pura | Doctor Nefarious Tropy | Fake Crash | Penta Penguin
Bosses
Ripper Roo | Papu Papu | Komodo Joe | Pinstripe Potoroo | Nitros Oxide
Supporting characters
Aku Aku | Uka Uka | Ami | Isabella | Liz | Megumi
Race tracks
N. Sanity Beach (Crash Cove, Roo's Tubes, Mystery Caves, Sewer Speedway) The Lost Ruins (Coco Park, Tiger Temple, Papu's Pyramid, Dingo Canyon) Glacier Park (Blizzard Bluff, Dragon Mines, Polar Pass, Tiny Arena) Citadel City (N. Gin Labs, Cortex Castle, Hot Air Skyway, Oxide Station) Gem Stone Valley (Slide Coliseum, Turbo Track)
Battle Arenas
Skull Rock | Rampage Ruins | Rocky Road | Nitro Court | The North Bowl | Parking Lot | Lab Basement
Items
Trophies | Crystals | Gems | Relics | CTR Tokens | Keys
Power Ups
Missiles | Bowling Bombs | Warp Orbs | Power Shields | N. Tropy Clocks | N. Brio's Beakers | Turbos | Invisibility | Super Engines | Aku Aku/Uka Uka Masks
Crash Bash
Good
Aku Aku | Crash Bandicoot | Coco Bandicoot | Tiny Tiger | Dingodile
Evil
Uka Uka | Doctor Neo Cortex | Doctor Nitrus Brio | Koala Kong | Rilla Roo
Others
Doctor N. Gin | Ripper Roo | Fake Crash
Items
Anvil | Arrow | Balloon | Block | Bomb | Crystal | Electro Stun Beam | Force Field | Gem | Gold Relic | Homing Energy Orb | Hover Boots | Jewel | Lightning | Locked Crate | Mine | Missile | Mushroom | Nitro Crate | Padlock | Platinum Relic | Pogo Stick | Powder Keg | Purple ? and ! crate | Shock Wave | Sonic Ring | Speedy Boots | TNT Crate | Trophy | Vacuum Cleaner | Wumpa Fruit | Z
Minigames
Crate Crush (Jungle Bash, Space Bash, Snow Bash, Drain Bash, Tie Breaker) Polar Push (Polar Panic, Tilt Panic, Melt Panic, Manic Panic) Ballistix (Crashball, Beach Ball, N. Ballism, Sky Balls) Pogo Pandemonium (Pogo Painter, Pogo-a-Gogo, El Pogo Loco, Pogo Padlock, cut minigame) Tank Wars (Desert Fox, Metal Fox, Jungle Fox, Swamp Fox) Crash Dash (Dot Dash, Toxic Dash, Dante's Dash, Splash Dash) Medieval Mayhem (Ring Ding, Dragon Drop, Mallet Mash, Keg Kaboom)
Bosses
Papu Pummel (Papu Papu) | Bearminator (Bearminator) | Big Bad Fox (Komodo Brothers) | Oxide Ride (Nitros Oxide)
Crash Twinsanity
Protagonists
Crash Bandicoot | Doctor Neo Cortex | Aku Aku | Nina Cortex
Minor Characters
Nitros Oxide | Polar | Crunch Bandicoot | Doctor N. Gin | Doctor Nitrus Brio | Doctor Nefarious Tropy | Ripper Roo | Tiny Tiger | Farmer Ernest | Evil Crash | Pinstripe Potoroo | Koala Kong | Papu Papu | Rusty Walrus | Cortex's mother | Spyro the Dragon | Mecha-Bandicoot | Coco Bandicoot | Removed: Evil Coco | Good Cortex | Capu Capu | Evil Capu Capu | Fake Crash | Komodo Brothers | N. Trance |
Bosses
Doctor Neo Cortex | Mecha-Bandicoot | Tikimon | Uka Uka | Doctor N. Gin | Doctor Nefarious Tropy | Doctor Nitrus Brio | Dingodile | Madame Amberly | Evil Twins | Removed: | Ant Leader | Rusty Walrus
Items
Crates (Cortex Crate - Crash Crate - Nina Crate - Bounce Crate - Basic Crate - ? Crate - Locked Crate - Iron Crate - Iron Arrow Crate - Arrow Crate - Ammo Crate - Nitro Switch Crate - Nitro Crate - TNT Crate - Checkpoint Crate - World Crate - Aku Aku Crate - Uka Uka Crate - Detonator Crate - Activation Crate - Outline Crate) - Wumpa Fruit - Crystal - Gem - Weak platforms - Sequence platforms Removed: Relic
Levels
N. Sanity Island (Jungle Bungle, Cavern Catastrophe, Totem Hokum) | Iceberg Lab (Ice Climb, Slip Slide Icecapades, High Seas Hi-Jinks) | Academy of Evil (Boiler Room Doom, Classroom Chaos, Rooftop Rampage) | Twinsanity Island (Rockslide Rumble, Bandicoot Pursuit, Ant Agony) | Removed: Gone a Bit Coco, Megalomaniac Mind Mania, Harbor level, Uka Tree level, Lava Caves, Rehab Lab, Security Insanity, Cut Rollerbrawl level, | Train Express | 9th Dimension | 11th Dimension | Canyon Level | Wumpa Island | Komodo Bros. Race | Space Dimension | Temple Level | Ocean Dimension (Coco sub level, Ocean Commotion ) Cut UFO level | Cut Ant lab level | Cut Sport level
Enemies
Crab | Chicken | Tikimon's Minions | Monkey | Skunk | Venus Fly Trap | Worm | Ant | Rat | Bees | Bear | Tribesman | Hog | Bat | Penguin | Hologram Probe | Barrel Throwing Rhino | Guard Dog | Hall Monitor | Robot Dummy | Robotic Janitor | Experimental Frog | Beetle | Gargolye | Removed: Ant Pet | Flying Swordfish | Greyscale Ant | Pink Elephant | Flowers | Teddy Bear | Robots | Pigs | Turtles | Solid Rock Bee | Walking fly trap | Fire-Breathing Creature | Striped Snake | Lab Assistant | Twin Tech Robotic Snake | Lion | Ostrich | Snake Pirates | Pirate Platypus | Piranhas | Sharks | Sea Monster
Crash Bandicoot N. Sane Trilogy
Protagonists
Crash Bandicoot | Aku Aku | Tawna | Coco Bandicoot | Fake Crash | Polar | Pura | Penta Penguin | Baby T | Doctor Nitrus Brio (Crash 2 only)
Levels
Crash Bandicoot
N. Sanity Island: N. Sanity Beach • Jungle Rollers • The Great Gate • Boulders • Upstream • Rolling Stones • Hog Wild • Native Fortress


Wumpa Island: Up the Creek • The Lost City • Temple Ruins • Road to Nowhere • Boulder Dash • Whole Hog • Sunset Vista
Cortex Island: Heavy Machinery • Cortex Power • Generator Room • Toxic Waste • The High Road • Slippery Climb • Lights Out • Fumbling in the Dark • Jaws of Darkness • Castle Machinery • The Lab • The Great Hall
DLC: Stormy Ascent

Cortex Strikes Back
Intro


First Warp Room: Turtle Woods, Snow Go, Hang Eight, The Pits, Crash Dash
Second Warp Room: Snow Biz, Air Crash, Bear It, Crash Crush, The Eel Deal
Third Warp Room: Plant Food, Sewer or Later, Bear Down, Road to Ruin, Un-Bearable
Fourth Warp Room: Hangin' Out, Diggin' It, Cold Hard Crash, Ruination, Bee-Having
Fifth Warp Room: Piston It Away, Rock It, Night Fight, Pack Attack, Spaced Out
Sixth Warp Room: Totally Bear, Totally Fly

Warped
First Chamber: Toad Village, Under Pressure, Orient Express, Bone Yard, Makin' Waves


Second Chamber: Gee Wiz, Hang'em High, Hog Ride, Tomb Time, Midnight Run
Third Chamber: Dino Might!, Deep Trouble, High Time, Road Crash, Double Header
Fourth Chamber: Sphynxinator, Bye Bye Blimps, Tell No Tales, Future Frenzy, Tomb Wader
Fifth Chamber: Gone Tomorrow, Orange Asphalt, Flaming Passion, Mad Bombers, Bug Lite
Sixth Chamber: Ski Crazed, Area 51?, Rings of Power
Secret Levels: Hot Coco, Eggipus Rex
Seventh Chamber (DLC): Future Tense

Items
Crates (Basic Crate • Aku Aku Crate • Bounce Crate • Arrow Crate • ? Crate • Time Crate • ! Crate • TNT Crate • Big TNT Crate • Crash Crate • Checkpoint Crate • Iron Crate • Iron Arrow Crate • Nitro Crate • Nitro Switch Crate • Locked Crate • Slot Crate • Iron Checkpoint Crate) | Wumpa Fruit | Gem | Key | Relic | Crystal
Enemies
Crab | Turtle | Skunk | Venus Fly Trap | Monkey | Tribesman | Flying Fish | Bat | Snake | Spider | Hog | Holo-Projector | Crawling | Spiked Saucer | Machine Gunner | Barrel Thrower | Evil Hand | Lab Assistant | Beaker-Throwing Lab Assistant | Rat | Blob | Electric Lab Assistant | Armadillo | Echidna | Penguin | Seal | Mechanical Piranha | Orca | Electric Eel | Scrubbing Bubbletron | Spike Rat | Sewer Worker Lab Assistant | Parka Lab Assistant | Cyborg Clamidosaur | Gorilla | Possum | Hunter Lab Assistant | Polar Bear | Bee | Sledgehammer Lab Assistant | Spitter Plant | Tiki | Barricading Lab Assistant | Robot Walker | Sparky Tentaclebot Unit | Frog | Goat | Knight Lab Assistant | Moray Eel | Pufferfish | Shark | Pterodactyl | Triceratops | Wave Lab Assistant | Seagull | Wizard Lab Assistant | Scorpion | Crocodile | Bandifish | Arsonist | Double-Headed Lab Assistant | Beetle
Bosses
Papu Papu | Ripper Roo | Koala Kong | Pinstripe Potoroo | Doctor Nitrus Brio (Crash 1 only) | Doctor Neo Cortex | Komodo Brothers | Tiny Tiger | Doctor N. Gin | Dingodile | Doctor Nefarious Tropy | Uka Uka