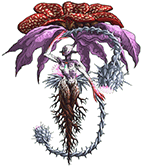 The
Psycho-Mandrake
is an odd sentient plant with telekinetic powers similar to those of
TK
that appears in the DS version of
Crash: Mind Over Mutant
. It's a yellow bloom in early stages of its life before it evolves into a sort of palm tree, and again into a big purple flower. The leaves on its head enable it to descend slowly in the air by floating.
Video
Trivia
Psycho-Mandrake's claws, vines and petals were used in the creation of the Chimera.
Ad blocker interference detected!
Wikia is a free-to-use site that makes money from advertising. We have a modified experience for viewers using ad blockers

Wikia is not accessible if you've made further modifications. Remove the custom ad blocker rule(s) and the page will load as expected.