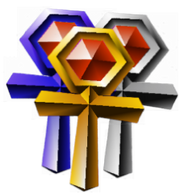 Relics are items that are achieved after getting a record time in Time Trial mode below a certain time. They first appeared in Crash Bandicoot 3: Warped. There are 3 types of relics:
Sapphire Relics are the easiest to obtain and have the longest time to obtain them. After this comes the Gold Relic and finally the Platinum Relic which are the hardest to obtain and have the shortest time to obtain them. Better relics are awarded when the player complete a certain course in a better time, by beating the record set by the CPU.
Although only the easiest time appears on screen, you do not have to have the Sapphire Relic to obtain the Gold Relics (except for Crash Bash). The same applies for the Platinum Relic with the Sapphire and Gold Relics.
Appearances
Gallery
Trivia
The Sapphire Relics were originally called Silver Relics in early versions of Crash Bandicoot: Warped. Due to confusion because Silver looks similar to Platinum, it was changed to Bronze, but it eventually ended up as Sapphire.
In Crash Bandicoot: Warped (as well as the later platform games and the remaster of Crash 2), a good tactic is to hold off on the Time Trials until you get the Crash Dash power, which makes getting the relics much easier.
In Crash Bandicoot N. Sane Trilogy, Time Trials and relics are fully implemented into the remasters of the first two games, save for Relic-locked levels and the Gem obtainable by collecting every Gold Relic or higher. However, the criteria for retrieving two hidden Gems from Hang Eight and Plant Food remain the same, independent of the Time Trials.
In Crash Bash, there are only two types of relics: Gold and Platinum. However, Gold Relics have a green jewel in them instead of red, and platinum relics look like Sapphire Relics.  Also, in Crash Bash, relics are not obtained in a time trial mode, but rather in relic challenges.
The Platinum times in Crash Bandicoot 3: Warped are not displayed until after beating Cortex.
The relics resemble the ankh, an ancient Egyptian symbol of life. Visual changes made in N. Sane Trilogy bring it closer in terms of appearance.
Relics were going to be used in Twinsanity, but they were cut.
Crash Bandicoot 3: Warped

Protagonists
Crash Bandicoot | Aku Aku | Coco Bandicoot | Pura | Penta Penguin | Baby T | Polar | Fake Crash
Bosses
Tiny Tiger | Dingodile | Doctor Nefarious Tropy | Doctor N. Gin | Doctor Neo Cortex | Uka Uka
Items
Crates | Wumpa Fruit | Crystals | Gems | Relics
Levels
First Chamber (Toad Village, Under Pressure, Orient Express, Bone Yard, Makin' Waves) | Second Chamber (Gee Wiz, Hang'em High, Hog Ride, Tomb Time, Midnight Run) | Third Chamber (Dino Might!, Deep Trouble, High Time, Road Crash, Double Header) | Fourth Chamber (Sphynxinator, Bye Bye Blimps, Tell No Tales, Future Frenzy, Tomb Wader) | Fifth Chamber (Gone Tomorrow, Orange Asphalt, Flaming Passion, Mad Bombers, Bug Lite) | Sixth Chamber (Ski Crazed, Area 51?, Rings of Power) | Secret Levels (Hot Coco, Eggipus Rex)
Enemies
Bandifish | Beetle | Snake | Arsonist | Crocodile | Eel | Goat | Lab Assistant | Monkey | Pufferfish | Scorpion | Seagull | Shark | Triceratops | Pterodactyl | Wave Lab Assistant | Double-Headed Lab Assistant | Wizard Lab Assistant | Frog
Crash Team Racing

Racers
Crash Bandicoot | Doctor Neo Cortex | Coco Bandicoot | Doctor N. Gin | Tiny Tiger | Dingodile | Polar | Pura | Doctor Nefarious Tropy | Fake Crash | Penta Penguin
Bosses
Ripper Roo | Papu Papu | Komodo Joe | Pinstripe Potoroo | Nitros Oxide
Supporting characters
Aku Aku | Uka Uka | Ami | Isabella | Liz | Megumi
Race tracks
N. Sanity Beach (Crash Cove, Roo's Tubes, Mystery Caves, Sewer Speedway) The Lost Ruins (Coco Park, Tiger Temple, Papu's Pyramid, Dingo Canyon) Glacier Park (Blizzard Bluff, Dragon Mines, Polar Pass, Tiny Arena) Citadel City (N. Gin Labs, Cortex Castle, Hot Air Skyway, Oxide Station) Gem Stone Valley (Slide Coliseum, Turbo Track)
Battle Arenas
Skull Rock | Rampage Ruins | Rocky Road | Nitro Court | The North Bowl | Parking Lot | Lab Basement
Items
Trophies | Crystals | Gems | Relics | CTR Tokens | Keys
Power Ups
Missiles | Bowling Bombs | Warp Orbs | Power Shields | N. Tropy Clocks | N. Brio's Beakers | Turbos | Invisibility | Super Engines | Aku Aku/Uka Uka Masks
Crash Bash

Good
Aku Aku | Crash Bandicoot | Coco Bandicoot | Tiny Tiger | Dingodile
Evil
Uka Uka | Doctor Neo Cortex | Doctor Nitrus Brio | Koala Kong | Rilla Roo
Others
Doctor N. Gin | Ripper Roo | Fake Crash
Items
Anvil | Arrow | Balloon | Block | Bomb | Crystal | Electro Stun Beam | Force Field | Gem | Gold Relic | Homing Energy Orb | Hover Boots | Jewel | Lightning | Locked Crate | Mine | Missile | Mushroom | Nitro Crate | Padlock | Platinum Relic | Pogo Stick | Powder Keg | Purple ? and ! crate | Shock Wave | Sonic Ring | Speedy Boots | TNT Crate | Trophy | Vacuum Cleaner | Wumpa Fruit | Z
Minigames
Crate Crush (Jungle Bash, Space Bash, Snow Bash, Drain Bash, Tie Breaker) Polar Push (Polar Panic, Tilt Panic, Melt Panic, Manic Panic) Ballistix (Crashball, Beach Ball, N. Ballism, Sky Balls) Pogo Pandemonium (Pogo Painter, Pogo-a-Gogo, El Pogo Loco, Pogo Padlock, cut minigame) Tank Wars (Desert Fox, Metal Fox, Jungle Fox, Swamp Fox) Crash Dash (Dot Dash, Toxic Dash, Dante's Dash, Splash Dash) Medieval Mayhem (Ring Ding, Dragon Drop, Mallet Mash, Keg Kaboom)
Bosses
Papu Pummel (Papu Papu) | Bearminator (Bearminator) | Big Bad Fox (Komodo Brothers) | Oxide Ride (Nitros Oxide)
Crash Bandicoot: The Wrath of Cortex
Protagonists
Crash Bandicoot • Aku Aku • Coco Bandicoot • Pura
Antagonists
Doctor Neo Cortex • Crunch Bandicoot • The Elementals (Rok-Ko, Wa-Wa, Lo-Lo and Py-Ro) • Uka Uka • Doctor Nefarious Tropy • Doctor N. Gin • Tiny Tiger • Dingodile
Items
Crates (Basic Crate, ? Crate, ! Crate, Activation Crate, Outline Crate, Crash Crate, Locked Crate, Invisibility Crate, Iron Crate, Iron Arrow Crate, Checkpoint Crate, Arrow Crate, Nitro Crate, Nitro Switch Crate, TNT Crate) • Wumpa Fruit • Crystal • Gem • Relic
Super Powers
Tip Toe • Double Jump • Death Tornado Spin • Fruit Bazooka • Crash Dash (Super Power) • Super Belly Flop
Levels
First Chamber (Arctic Antics, Tornado Alley, Bamboozled, Wizards and Lizards, Compactor Reactor) • Second Chamber (Jungle Rumble, Sea Shell Shenanigans, Banzai Bonsai, That Sinking Feeling, H2 Oh No) • Third Chamber (The Gauntlet, Tsunami, Smokey and the Bandicoot, Eskimo Roll, Fahrenheit Frenzy) • Fourth Chamber (Avalanche, Droid Void, Crashteroids, Coral Canyon, Weathering Heights) • Fifth Chamber (Crash and Burn, Gold Rush, Medieval Madness, Crate Balls of Fire, Cortex Vortex) • Boss Levels (Rumble in the Roks, Drain Damage, Crashes to Ashes, Atmospheric Pressure, Crunch Time) • Sixth Chamber (Knight Time, Ghost Town, Ice Station Bandicoot, Solar Bowler, Force of Nature) • Cut levels (Cut Chinese harbour level, Tsunami, Cut Glider level, Cut oriental level, Fire Island)
Enemies
Seal • Penguin • Narwhale • Lab Assistant • Bat • Fish • Lizard • Koi Fish • Crane • Salmon • Robot • Monkey • Parrot • Crab • Donkey • Inflating Cactus • Scorpion • Knight Lab Assistant • Ninja Lab Assistant • Skiing Lab Assistant • Gold Miners
Crash Bandicoot: The Huge Adventure

Protagonists
Crash Bandicoot | Aku Aku | Coco Bandicoot
Bosses
Dingodile | Doctor N. Gin | Tiny Tiger | Doctor Neo Cortex | Uka Uka | Mega-Mix
Items
Crates | Wumpa Fruit | Crystals | Gems
Levels
First Chamber (Jungle Jam, Shipwrecked, Temple of Boom, Frostbite Cavern, Just in Slime) | Second Chamber (Snow Crash, Rocket Racket, Just Hangin', Shark Attack, Ruined) | Third Chamber (Snow Job, Ace of Space, Sunken City, Down the Hole, Blimp Bonanza) | Fourth Chamber (Star to Finish, Air Supply, No-Fly Zone, Drip, Drip, Drip, Final Countdown)
Enemies
Bird | Eel | Electric Eel | Frog | Jellyfish | Lab Assistant | Lizard | Penguin | Polar Bear | Pufferfish | Rat | Scrubbing Bubbletron | Seal | Shark | Sparky Tentaclebot Unit | Spike Lizard | Squid | Steam-Powered Hover-Spike-O-Trons | Venus Fly Trap | Yeti
Crash Bandicoot 2: N-Tranced

Protagonists
Crash Bandicoot | Aku Aku | Coco Bandicoot | Crunch Bandicoot | Fake Crash
Antagonists
Doctor Nefarious Tropy | N. Trance | Uka Uka | Evil Crunch | Evil Coco
Items
Crates | Wumpa Fruit | Crystals | Gems | Gem Shards | Super Slide | Rocket Jump | Death Tornado Spin | Crash Dash
Levels
First Chamber (Island Intro, Prints of Persia, Lagoony Tunes, Globe Trottin', Pharaoh's Funhouse, Runaway Rug) | Second Chamber (Tiki Torture, Hoppin' Coffins, Barrel Roll, Flockful of Seagulls, Magma Mania) | Third Chamber (Run from the Sun, Now It's Istanbul, Mister Lava Lava, Water Logged, Slip-N-Slidin' Sphinx) | Fourth Chamber (Rocks Can Roll, Rock the Casaba, Eruption Disruption, Spaced Out, King Too Uncommon) | Fifth Chamber (Wild Nile Ride, 101 Arabian Kites, Fire Walker)
Enemies
Arsonist | Beetle |Crocodile | Lab Assistant | Monkey | Scorpion | Seagull | Shark | Snake
Crash Nitro Kart

Racers
Team Bandicoot (Crash Bandicoot, Coco Bandicoot, Crunch Bandicoot, Fake Crash) | Team Cortex (Doctor Neo Cortex, Doctor N. Gin, Tiny Tiger, Doctor Nefarious Tropy) | Team Oxide (Nitros Oxide, Zem, Zam, Velo) | Team Trance (N. Trance, Polar, Dingodile, Pura) | GBA Only (Krunk, Nash, Norm, Geary, Spyro the Dragon) | Removed: (Nina, Doctor Nitrus Brio, Rilla Roo, Komodo Brothers, Ripper Roo)
Bosses
Krunk | Nash | Norm | Geary | Emperor Velo XXVII
Supporting characters
Aku Aku | Uka Uka
Race tracks
Terra (Inferno Island, Jungle Boogie, Tiny Temple) | Barin (Meteor Gorge, Barin Ruins, Deep Sea Driving (Crash Nitro Kart)) | Fenomena (Out of Time, Clockwork Wumpa, Thunder Struck) | Teknee (Assembly Lane, Android Alley, Electron Avenue) | Velo's Vault (Gem Cups, Hyper Spaceway)
Battle Arenas
Temple Turmoil | Frozen Frenzy | Desert Storm | Magnetic Mayhem | Terra Drome
Items
Wumpa Fruit | ? Crates | Trophies | Crystals | Gems | Relics | CNK Tokens | Keys
Power Ups
Missiles | Bowling Bombs | TNT Crates | Static Orbs | N. Tropy Clocks | Turbo | Ice Mines | Power Shields | Aku Aku/Uka Uka/Velo Masks | Tornado Tops |Invisibility | Super Engines | Red Eye Missiles | Removed: Voodoo Doll
Crash Bandicoot N. Sane Trilogy

Protagonists
Crash Bandicoot | Aku Aku | Tawna | Coco Bandicoot | Fake Crash | Polar | Pura | Penta Penguin | Baby T | Doctor Nitrus Brio (Crash 2 only)
Levels
Crash Bandicoot
N. Sanity Island (N. Sanity Beach • Jungle Rollers • The Great Gate • Boulders • Upstream • Rolling Stones • Hog Wild • Native Fortress) | Wumpa Island (Up the Creek • The Lost City • Temple Ruins • Road to Nowhere • Boulder Dash • Whole Hog • Sunset Vista) | Cortex Island (Heavy Machinery • Cortex Power • Generator Room • Toxic Waste • The High Road • Slippery Climb • Lights Out • Fumbling in the Dark • Jaws of Darkness • Castle Machinery • The Lab • The Great Hall) | DLC (Stormy Ascent)
Cortex Strikes Back
Intro, First Warp Room (Turtle Woods, Snow Go, Hang Eight, The Pits, Crash Dash) • Second Warp Room (Snow Biz, Air Crash, Bear It, Crash Crush, The Eel Deal) • Third Warp Room (Plant Food, Sewer or Later, Bear Down, Road to Ruin, Un-Bearable) • Fourth Warp Room (Hangin' Out, Diggin' It, Cold Hard Crash, Ruination, Bee-Having) • Fifth Warp Room (Piston It Away, Rock It, Night Fight, Pack Attack, Spaced Out) • Sixth Warp Room (Totally Bear, Totally Fly)
Warped
First Chamber (Toad Village, Under Pressure, Orient Express, Bone Yard, Makin' Waves) | Second Chamber (Gee Wiz, Hang'em High, Hog Ride, Tomb Time, Midnight Run) | Third Chamber (Dino Might!, Deep Trouble, High Time, Road Crash, Double Header) | Fourth Chamber (Sphynxinator, Bye Bye Blimps, Tell No Tales, Future Frenzy, Tomb Wader) | Fifth Chamber (Gone Tomorrow, Orange Asphalt, Flaming Passion, Mad Bombers, Bug Lite) | Sixth Chamber (Ski Crazed, Area 51?, Rings of Power) | Secret Levels (Hot Coco, Eggipus Rex)
Items
Crates (Basic Crate • Aku Aku Crate • Bounce Crate • Arrow Crate • ? Crate • Time Crate • ! Crate • TNT Crate • Big TNT Crate • Crash Crate • Checkpoint Crate • Iron Crate • Iron Arrow Crate • Nitro Crate • Nitro Switch Crate • Locked Crate • Slot Crate • Iron Checkpoint Crate) | Wumpa Fruit | Gem | Key | Relic | Crystal
Enemies
Crab | Turtle | Skunk | Venus Fly Trap | Monkey | Tribesman | Flying Fish | Bat | Lizard | Snake | Spider | Hog | Holo-Projector | Crawling | Robot | Spiked Saucer | Machine Gunner | Barrel Thrower | Bird | Evil Hand | Lab Assistant | Beaker-Throwing Lab Assistant | Rat | Blob | Electric Lab Assistant | Armadillo | Echidna | Penguin | Seal | Mechanical Piranha | Orca | Electric Eel | Scrubbing Bubbletron | Spike Rat | Sewer Worker Lab Assistant | Parka Lab Assistant | Cyborg Clamidosaur | Gorilla | Possum | Hunter Lab Assistant | Polar Bear | Bee | Sledgehammer Lab Assistant | Spitter Plant | Tiki | Barricading Lab Assistant | Robot Walker | Sparky Tentaclebot Unit | Frog | Goat | Knight Lab Assistant | Moray Eel | Pufferfish | Shark | Pterodactyl | Triceratops | Wave Lab Assistant | Seagull | Wizard Lab Assistant | Scorpion | Crocodile | Bandifish | Arsonist | Double-Headed Lab Assistant | Beetle
Bosses
Papu Papu | Ripper Roo | Koala Kong | Pinstripe Potoroo | Doctor Nitrus Brio (Crash 1 only) | Doctor Neo Cortex | Komodo Brothers | Tiny Tiger | Doctor N. Gin | Dingodile | Doctor Nefarious Tropy | Uka Uka