This article is about a level in Crash Bandicoot 2: Cortex Strikes Back. For information about the level in Crash Bandicoot 2: N-Tranced of the same name, see here.
Spaced Out




Info
Level Number
25 (Warp Room 5)
Number of crates
60 (31 in bonus)
Gem type
Power Crystal, Clear Gem (x2)
Previous level
Pack Attack
Next level
Totally Bear
Spaced Out
(カラーダイヤの しれん lit.
Color Diamonds Trial
in Japanese) is the twenty-fifth level and is the final level of the fifth warp room in
Crash Bandicoot 2: Cortex Strikes Back
. The second of two levels set inside
Cortex
's space station, it is the final non-hidden level in the game, and thus the final level to contain a
crystal
. It mostly consists of familiar obstacles already seen in
Piston It Away
, though it introduces new floating platforms with dangerous glowing hot sides, though the tops are safe to stand on. Perhaps the most notable feature of this level is the
multicolor gem path
, a secret route that requires the player to have all five colored
gems
to complete. Each gem's path seems to have a specific theme - the
blue gem
's path focuses on platforming, involving pistons and floating
sparky tentaclebot units
, the
green gem
's path on shrinkage rays, the
yellow gem
's path on the glowing hot discs, the
red gem
's path on a combination of shrinkage rays and shield-wielding
lab assistants
, and the
purple gem
's path on a straight-forward walk to the hidden
clear gem
and the exit. The main path of the level is similarly filled with tricky (though less difficult) platforming bits. The multicolor gem path is also filled with lives.
Types of crates
Walkthrough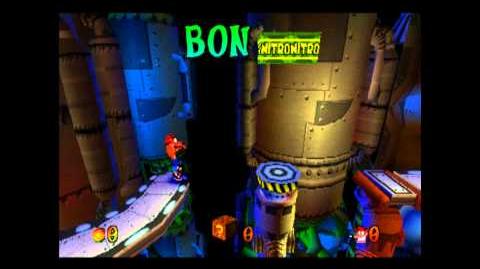 Gallery
Translation of Aku Aku Hints in the Japanese Version
Trivia
This level's name is a sly reference to the famous 1980 Warner Brothers Bugs Bunny/Marvin the Martian animated cartoon short, Spaced Out Bunny.
Interestingly, Crash Bandicoot 2: N-Tranced would also feature a level called Spaced Out. It is unknown why Vicarious Visions repeated this level's name or if they unknowingly did it.
Spaced Out and Bug Lite are the last levels of Crash 2 and Crash 3 and both have a clear gem and a multicolor route.
This level partially mirrors the previous game's The Great Hall level, as this level has a Multicolor Gem Path, while The Great Hall has a Clear Gems path. If Crash 1 used Crash 2's level numbering system, The Great Hall would also be level 25.

This level's Japanese name also recalls players of The Great Hall level, which is called "White Diamonds' destination is?" literally in the Japanese version.

This is one of only four levels in the Crash platforming series from Crash 2 onwards that has more crates on the bonus path than the main path, the others being Ruination and Night Fight, also from Crash 2, and Drip, Drip, Drip from Crash Bandicoot: The Huge Adventure.
Crash Bandicoot 2: Cortex Strikes Back
Protagonists
Crash Bandicoot • Aku Aku • Coco Bandicoot • Doctor Nitrus Brio • Polar
Bosses
Ripper Roo • Komodo Brothers • Tiny Tiger • Doctor N. Gin • Doctor Neo Cortex
Items
Crates (Basic Crate, ? Crate, Bounce Crate, Aku Aku Crate, Checkpoint Crate, Crash Crate, Arrow Crate, Locked Crate, TNT Crate, Nitro Crate, Nitro Switch Crate, ! Crate, Iron Crate, Iron Arrow Crate) • Wumpa Fruit • Crystal • Gem
Levels
Intro, First Warp Room (Turtle Woods, Snow Go, Hang Eight, The Pits, Crash Dash) • Second Warp Room (Snow Biz, Air Crash, Bear It, Crash Crush, The Eel Deal) • Third Warp Room (Plant Food, Sewer or Later, Bear Down, Road to Ruin, Un-Bearable) • Fourth Warp Room (Hangin' Out, Diggin' It, Cold Hard Crash, Ruination, Bee-Having) • Fifth Warp Room (Piston It Away, Rock It, Night Fight, Pack Attack, Spaced Out) • Sixth Warp Room (Totally Bear, Totally Fly)
Enemies
Armadillo • Bee • Bird • Cyborg Clamidosaur • Echidna • Electric Eel • Gorilla • Lab Assistant • Lizard • Mechanical Piranha • Monkey • Orca • Penguin • Polar Bear • Possum • Rat • Robot Walker • Scrubbing Bubbletron • Seal • Sparky Tentaclebot Unit • Spike Rat • Spiked Saucer • Spitter Plant • Tiki • Turtle • Venus Fly Trap
Ad blocker interference detected!
Wikia is a free-to-use site that makes money from advertising. We have a modified experience for viewers using ad blockers

Wikia is not accessible if you've made further modifications. Remove the custom ad blocker rule(s) and the page will load as expected.