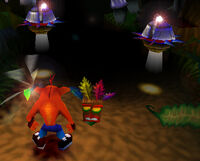 The Spiked Saucers are enemies that appear in Crash Bandicoot, Crash Bandicoot 2: Cortex Strikes Back, and the Crash Bandicoot N. Sane Trilogy.
The Spiked Saucers appear in the machinery levels in Crash Bandicoot, the sewer levels and the firefly levels in Cortex Strikes Back.
They typically block Crash's path while he is navigating through each level and do not attack Crash directly, and act more like a roadblock in his path.
They usually appear in pairs of two or three.
Description
They are small robotic ships that float in the air, with a row of spikes on the side. A small tentacle-like camera come out of the top of the robot.
Walking versions of this enemy were supposed to appear in Crash Twinsanity, as shown by concept arts, but were ultimately scrapped probably later in development, since a fully rendered and textured 3D model can be seen in said concept arts.
Behavior
In Crash Bandicoot, this enemies move up and down or stand still, blocking the path. They cannot be defeated by any attack.
In Cortex Strikes Back, they can be seen in a full 3D environment and here they move around or stand still, acting very similarly to how they moved in the previous game. Also in this game, in the dark level, the Spiked Saucers have a blue shell and appear to be able to light up the camera on top of them and emit a beam underneath to illuminate their surroundings.
Appearances
Gallery
Crash Bandicoot 2: Cortex Strikes Back
Protagonists
Crash Bandicoot • Aku Aku • Coco Bandicoot • Doctor Nitrus Brio • Polar
Bosses
Ripper Roo • Komodo Brothers • Tiny Tiger • Doctor N. Gin • Doctor Neo Cortex
Items
Crates (Basic Crate, ? Crate, Bounce Crate, Aku Aku Crate, Checkpoint Crate, Crash Crate, Arrow Crate, Locked Crate, TNT Crate, Nitro Crate, Nitro Switch Crate, ! Crate, Iron Crate, Iron Arrow Crate) • Wumpa Fruit • Crystal • Gem
Levels
Intro, First Warp Room (Turtle Woods, Snow Go, Hang Eight, The Pits, Crash Dash) • Second Warp Room (Snow Biz, Air Crash, Bear It, Crash Crush, The Eel Deal) • Third Warp Room (Plant Food, Sewer or Later, Bear Down, Road to Ruin, Un-Bearable) • Fourth Warp Room (Hangin' Out, Diggin' It, Cold Hard Crash, Ruination, Bee-Having) • Fifth Warp Room (Piston It Away, Rock It, Night Fight, Pack Attack, Spaced Out) • Sixth Warp Room (Totally Bear, Totally Fly)
Enemies
Armadillo • Bee • Bird • Cyborg Clamidosaur • Echidna • Electric Eel • Gorilla • Lab Assistant • Lizard • Mechanical Piranha • Mole • Monkey • Orca • Penguin • Polar Bear • Possum • Rat • Robot Walker • Scrubbing Bubbletron • Seal • Sparky Tentaclebot Unit • Spike Rat • Spiked Saucer • Spitter Plant • Tiki • Turtle • Venus Fly Trap
Crash Bandicoot N. Sane Trilogy
Protagonists
Crash Bandicoot | Aku Aku | Tawna | Coco Bandicoot | Fake Crash | Polar | Pura | Penta Penguin | Baby T | Doctor Nitrus Brio (Crash 2 only)
Levels
Crash Bandicoot
N. Sanity Island: N. Sanity Beach • Jungle Rollers • The Great Gate • Boulders • Upstream • Rolling Stones • Hog Wild • Native Fortress


Wumpa Island: Up the Creek • The Lost City • Temple Ruins • Road to Nowhere • Boulder Dash • Whole Hog • Sunset Vista
Cortex Island: Heavy Machinery • Cortex Power • Generator Room • Toxic Waste • The High Road • Slippery Climb • Lights Out • Fumbling in the Dark • Jaws of Darkness • Castle Machinery • The Lab • The Great Hall
DLC: Stormy Ascent

Cortex Strikes Back
Intro


First Warp Room: Turtle Woods, Snow Go, Hang Eight, The Pits, Crash Dash
Second Warp Room: Snow Biz, Air Crash, Bear It, Crash Crush, The Eel Deal
Third Warp Room: Plant Food, Sewer or Later, Bear Down, Road to Ruin, Un-Bearable
Fourth Warp Room: Hangin' Out, Diggin' It, Cold Hard Crash, Ruination, Bee-Having
Fifth Warp Room: Piston It Away, Rock It, Night Fight, Pack Attack, Spaced Out
Sixth Warp Room: Totally Bear, Totally Fly

Warped
First Chamber: Toad Village, Under Pressure, Orient Express, Bone Yard, Makin' Waves


Second Chamber: Gee Wiz, Hang'em High, Hog Ride, Tomb Time, Midnight Run
Third Chamber: Dino Might!, Deep Trouble, High Time, Road Crash, Double Header
Fourth Chamber: Sphynxinator, Bye Bye Blimps, Tell No Tales, Future Frenzy, Tomb Wader
Fifth Chamber: Gone Tomorrow, Orange Asphalt, Flaming Passion, Mad Bombers, Bug Lite
Sixth Chamber: Ski Crazed, Area 51?, Rings of Power
Secret Levels: Hot Coco, Eggipus Rex
Seventh Chamber (DLC): Future Tense

Items
Crates (Basic Crate • Aku Aku Crate • Bounce Crate • Arrow Crate • ? Crate • Time Crate • ! Crate • TNT Crate • Big TNT Crate • Crash Crate • Checkpoint Crate • Iron Crate • Iron Arrow Crate • Nitro Crate • Nitro Switch Crate • Locked Crate • Slot Crate • Iron Checkpoint Crate) | Wumpa Fruit | Gem | Key | Relic | Crystal
Enemies
Crab | Turtle | Skunk | Venus Fly Trap | Monkey | Tribesman | Flying Fish | Bat | Lizard | Snake | Spider | Hog | Holo-Projector | Crawling | Robot | Spiked Saucer | Machine Gunner | Barrel Thrower | Bird | Evil Hand | Lab Assistant | Beaker-Throwing Lab Assistant | Rat | Blob | Electric Lab Assistant | Armadillo | Echidna | Penguin | Seal | Mechanical Piranha | Orca | Electric Eel | Scrubbing Bubbletron | Spike Rat | Sewer Worker Lab Assistant | Parka Lab Assistant | Cyborg Clamidosaur | Gorilla | Possum | Hunter Lab Assistant | Polar Bear | Bee | Sledgehammer Lab Assistant | Spitter Plant | Tiki | Barricading Lab Assistant | Robot Walker | Sparky Tentaclebot Unit | Frog | Goat | Knight Lab Assistant | Moray Eel | Pufferfish | Shark | Pterodactyl | Triceratops | Wave Lab Assistant | Seagull | Wizard Lab Assistant | Scorpion | Crocodile | Bandifish | Arsonist | Double-Headed Lab Assistant | Beetle
Bosses
Papu Papu | Ripper Roo | Koala Kong | Pinstripe Potoroo | Doctor Nitrus Brio (Crash 1 only) | Doctor Neo Cortex | Komodo Brothers | Tiny Tiger | Doctor N. Gin | Dingodile | Doctor Nefarious Tropy | Uka Uka