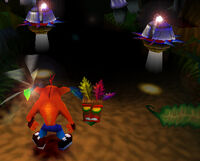 The Spiked Saucers are enemies that appear in Crash Bandicoot, Crash Bandicoot 2: Cortex Strikes Back, and the Crash Bandicoot N. Sane Trilogy.
The Spiked Saucers appear in the machinery levels in Crash Bandicoot, the sewer levels and the firefly levels in Cortex Strikes Back.
They typically block Crash's path while he is navigating through each level and do not attack Crash directly, and act more like a roadblock in his path.
They usually appear in pairs of two or three.
Description
They are small robotic ships that float in the air, with a row of spikes on the side. A small tentacle-like camera come out of the top of the robot.
Walking versions of this enemy were supposed to appear in Crash Twinsanity, as shown by concept arts, but were ultimately scrapped probably later in development, since a fully rendered and textured 3D model can be seen in said concept arts.
Behavior
In Crash Bandicoot, this enemies move up and down or stand still, blocking the path. They cannot be defeated by any attack.
In Cortex Strikes Back, they can be seen in a full 3D environment and here they move around or stand still, acting very similarly to how they moved in the previous game. Also in this game, in the dark level, the Spiked Saucers appear to be able to light up the camera on top of them to illuminate their surroundings.
Appearances
Gallery
Crash Bandicoot 2: Cortex Strikes Back
Protagonists
Crash Bandicoot • Aku Aku • Coco Bandicoot • Doctor Nitrus Brio • Polar
Bosses
Ripper Roo • Komodo Brothers • Tiny Tiger • Doctor N. Gin • Doctor Neo Cortex
Items
Crates (Basic Crate, ? Crate, Bounce Crate, Aku Aku Crate, Checkpoint Crate, Crash Crate, Arrow Crate, Locked Crate, TNT Crate, Nitro Crate, Nitro Switch Crate, ! Crate, Iron Crate, Iron Arrow Crate) • Wumpa Fruit • Crystal • Gem
Levels
Intro, First Warp Room (Turtle Woods, Snow Go, Hang Eight, The Pits, Crash Dash) • Second Warp Room (Snow Biz, Air Crash, Bear It, Crash Crush, The Eel Deal) • Third Warp Room (Plant Food, Sewer or Later, Bear Down, Road to Ruin, Un-Bearable) • Fourth Warp Room (Hangin' Out, Diggin' It, Cold Hard Crash, Ruination, Bee-Having) • Fifth Warp Room (Piston It Away, Rock It, Night Fight, Pack Attack, Spaced Out) • Sixth Warp Room (Totally Bear, Totally Fly)
Enemies
Armadillo • Bee • Bird • Cyborg Clamidosaur • Echidna • Electric Eel • Gorilla • Lab Assistant • Lizard • Mechanical Piranha • Monkey • Orca • Penguin • Polar Bear • Possum • Rat • Robot Walker • Scrubbing Bubbletron • Seal • Sparky Tentaclebot Unit • Spike Rat • Spiked Saucer • Spitter Plant • Tiki • Turtle • Venus Fly Trap
Ad blocker interference detected!
Wikia is a free-to-use site that makes money from advertising. We have a modified experience for viewers using ad blockers

Wikia is not accessible if you've made further modifications. Remove the custom ad blocker rule(s) and the page will load as expected.