Totally Bear
(ばくそう オールナイト lit.
Running Noisily All-night
in Japanese) is the twenty-sixth level in 
Crash Bandicoot 2: Cortex Strikes Back
. The first of two original secret levels in the game, it is unlocked by finding the secret warp in 
Un-Bearable
. This level is considered to be much harder than the previous bear riding levels. It forces 
Crash
to once again ride his acquaintance,
Polar
, close to the end of Un-Bearable. In
Bear It
, it was during the day, in
Bear Down
, it was evening, and now in Totally Bear, it is night, making it harder for the player because you cannot see that much farther ahead, and there is a light following the two. It is unknown what the source of the light is. It could possibly be moonlight.
Types of crates
Walkthrough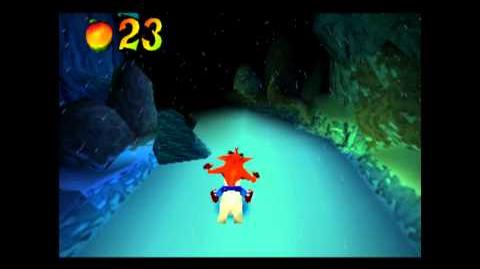 Gallery
Trivia
Unlike the rest of the levels in the secret warp room and the other secret paths in the game (including gem paths and death routes), this is the only level that plays the same exact song as the other Polar levels rather than a remix of it, as the "Polar" levels do not have any special route music.
This level's name could be a sly pun on Mattel's popular and famous Totally Hair Barbie, which sold extremely well in the years prior to this game's release.
This is one of the three levels in the game that happens in the dark but still has light (apparently coming from the moon). The others being Road to Ruin and Ruination.

Despite the level happening between two walls, the moon light can still illuminate most of the area.

Shortly after the second check point, the box counter will increase by two without Crash breaking a box. Through hacking, it has been discovered that this small glitch occurs as a result of a TNT crate exploding before it comes on screen, breaking a nearby life crate with it. If these two boxes that never occur on screen weren't counted, this level would have the least amount of crates in the game.
As with the other Polar levels in this game, Aku Aku is banned from this level, so even if the player has an Aku Aku mask when entering the level, the player loses it.
This is one of only two levels in this game that doesn't contain any nitro crates, the other level being The Pits (though Turtle Woods, Hang Eight, and Road to Ruin only contain nitro crates in secret areas of the levels). However, they are still present inside the level's data along with a nitro switch, meaning they at some point used in development.
This level mirrors the previous game's Whole Hog level, as both levels are the first of two secret levels, and both are mounting levels. If Crash 1 used Crash 2's level numbering system, Whole Hog would also be level 26. Also, "totally" is synomym to "whole".
Crash Bandicoot 2: Cortex Strikes Back
Protagonists
Crash Bandicoot • Aku Aku • Coco Bandicoot • Doctor Nitrus Brio • Polar
Bosses
Ripper Roo • Komodo Brothers • Tiny Tiger • Doctor N. Gin • Doctor Neo Cortex
Items
Crates (Basic Crate, ? Crate, Bounce Crate, Aku Aku Crate, Checkpoint Crate, Crash Crate, Arrow Crate, Locked Crate, TNT Crate, Nitro Crate, Nitro Switch Crate, ! Crate, Iron Crate, Iron Arrow Crate) • Wumpa Fruit • Crystal • Gem
Levels
Intro, First Warp Room (Turtle Woods, Snow Go, Hang Eight, The Pits, Crash Dash) • Second Warp Room (Snow Biz, Air Crash, Bear It, Crash Crush, The Eel Deal) • Third Warp Room (Plant Food, Sewer or Later, Bear Down, Road to Ruin, Un-Bearable) • Fourth Warp Room (Hangin' Out, Diggin' It, Cold Hard Crash, Ruination, Bee-Having) • Fifth Warp Room (Piston It Away, Rock It, Night Fight, Pack Attack, Spaced Out) • Sixth Warp Room (Totally Bear, Totally Fly)
Enemies
Armadillo • Bee • Bird • Cyborg Clamidosaur • Echidna • Electric Eel • Gorilla • Lab Assistant • Lizard • Mechanical Piranha • Monkey • Orca • Penguin • Polar Bear • Possum • Rat • Robot Walker • Scrubbing Bubbletron • Seal • Sparky Tentaclebot Unit • Spike Rat • Spiked Saucer • Spitter Plant • Tiki • Turtle • Venus Fly Trap
Ad blocker interference detected!
Wikia is a free-to-use site that makes money from advertising. We have a modified experience for viewers using ad blockers

Wikia is not accessible if you've made further modifications. Remove the custom ad blocker rule(s) and the page will load as expected.