The subject of this article does not have an official name.
The name currently in use is a fan designator. Please see below for more information.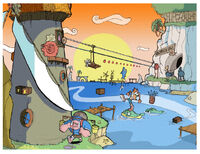 The Cut Harbor Level is a cut level from Crash Twinsanity where Crash would have to go across a harbor in order to reach Capu Capu's boat in order to reach the Iceberg Lab. Concept art of this can be seen in the game. The concept art shows a warthog wearing a blue shirt carrying two buckets. It is unknown if he would attack Crash or serve as background. Crash is also shown crossing a river by hopping on the heads of alligators. There is also a windmill with a rope carrying a platform. Across the river is a cave which would lead to the Komodo Bros. Race. Two ostriches and a cave called Ostrich Cave can be seen on the right side. There is no concept art showing the cave would have looked like inside.
Crash Twinsanity
Protagonists
Crash Bandicoot | Doctor Neo Cortex | Aku Aku | Nina Cortex
Minor Characters
Nitros Oxide | Polar | Crunch Bandicoot | Doctor N. Gin | Doctor Nitrus Brio | Doctor Nefarious Tropy | Ripper Roo | Tiny Tiger | Farmer Ernest | Evil Crash | Pinstripe Potoroo | Koala Kong | Papu Papu | Rusty Walrus | Cortex's mother | Spyro the Dragon | Mecha-Bandicoot | Coco Bandicoot | Removed: Evil Coco | Good Cortex | Capu Capu | Evil Capu Capu | Fake Crash | Komodo Brothers | N. Trance |
Bosses
Doctor Neo Cortex | Mecha-Bandicoot | Tikimon | Uka Uka | Doctor N. Gin | Doctor Nefarious Tropy | Doctor Nitrus Brio | Dingodile | Madame Amberly | Evil Twins | Removed: | Ant Leader | Rusty Walrus
Items
Crates (Crash Crate - Bounce Crate - Basic Crate - ? Crate - Locked Crate - Iron Crate - Iron Arrow Crate - Arrow Crate - Ammo Crate - Nitro Switch Crate - Nitro Crate - TNT Crate - Checkpoint Crate - World Crate - Aku Aku Crate - Detonator Crate - Activation Crate - Outline Crate) - Wumpa Fruit - Crystal - Gem - Weak platforms - Sequence platforms Removed: Unused Robot Crate - Relic
Levels
N. Sanity Island (Jungle Bungle, Cavern Catastrophe, Totem Hokum) | Iceberg Lab (Ice Climb, Slip Slide Icecapades, High Seas Hi-Jinks) | Academy of Evil (Boiler Room Doom, Classroom Chaos, Rooftop Rampage) | Twinsanity Island (Rockslide Rumble, Bandicoot Pursuit, Ant Agony) | Removed: Gone a Bit Coco, Megalomaniac Mind Mania, Harbor level, Uka Tree level, Lava Caves, Rehab Lab, Security Insanity, Cut Rollerbrawl level, | Train Express | 9th Dimension | 11th Dimension | Canyon Level | Wumpa Island | Komodo Bros. Race | Space Dimension | Temple Level | Ocean Dimension (Coco sub level, Ocean Commotion ) Cut UFO level | Cut Ant lab level | Cut Sport level
Enemies
Crab | Fish | Chicken | Tikimon's Minions | Monkey | Skunk | Venus Fly Trap | Worm | Ant | Rat | Bees | Bear | Tribesman | Hog | Bat | Penguin | Hologram Probe | Barrel Throwing Rhino | Guard Dog | Hall Monitor | Robot Dummy | Robotic Janitor | Experimental Frog | Beetle | Gargolye | Removed: Ant Pet | Flying Swordfish | Greyscale Ant | Pink Elephant | Flowers | Teddy Bear | Robots | Lizards | Pigs | Turtles | Solid Rock Bee | Walking fly trap | Fire-Breathing Creature | Striped Snake | Lab Assistant | Twin Tech Robotic Snake | Lion | Ostrich | Snake Pirates | Pirate Platypus | Piranhas | Sharks | Sea Monster
Ad blocker interference detected!
Wikia is a free-to-use site that makes money from advertising. We have a modified experience for viewers using ad blockers

Wikia is not accessible if you've made further modifications. Remove the custom ad blocker rule(s) and the page will load as expected.