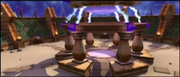 Velo's Citadel is a huge citadel located on an asteroid in Velo's galaxy. It appears in Crash Nitro Kart and is the fifth hub. The arena can also open up to reveal the track Hyper Spaceway underneath, where the player can race the game's final boss, Velo, through the portal called Galaxy Championship.
Other than the intro and the endings for both teams, all of the game's cutscenes take place within the citadel. Team Bandicoot and Team Cortex can also unlock gems here. A garage, containing portals that leads to races that unlock gems, is opened when the player collects enough tokens.
Ad blocker interference detected!
Wikia is a free-to-use site that makes money from advertising. We have a modified experience for viewers using ad blockers

Wikia is not accessible if you've made further modifications. Remove the custom ad blocker rule(s) and the page will load as expected.