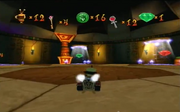 Velo's Vault is the sixth and final hub in Crash Nitro Kart. It is unlocked when the player collects all four keys. It is accessed in Velo's Citadel and it's where the gem cups are held, as well as being the place where the player must go for Velo's final race. It is the Crash Nitro Kart version of Gem Stone Valley from Crash Team Racing.
Gallery
Crash Nitro Kart

Racers
Team Bandicoot (Crash Bandicoot, Coco Bandicoot, Crunch Bandicoot, Fake Crash) | Team Cortex (Doctor Neo Cortex, Doctor N. Gin, Tiny Tiger, Doctor Nefarious Tropy) | Team Oxide (Nitros Oxide, Zem, Zam, Velo) | Team Trance (N. Trance, Polar, Dingodile, Pura) | GBA Only (Krunk, Nash, Norm, Geary, Spyro the Dragon) | Removed: (Nina, Doctor Nitrus Brio, Rilla Roo, Komodo Brothers, Ripper Roo)
Bosses
Krunk | Nash | Norm | Geary | Emperor Velo XXVII
Supporting characters
Aku Aku | Uka Uka
Race tracks
Terra (Inferno Island, Jungle Boogie, Tiny Temple) | Barin (Meteor Gorge, Barin Ruins, Deep Sea Driving (Crash Nitro Kart)) | Fenomena (Out of Time, Clockwork Wumpa, Thunder Struck) | Teknee (Assembly Lane, Android Alley, Electron Avenue) | Velo's Vault (Gem Cups, Hyper Spaceway)
Battle Arenas
Temple Turmoil | Frozen Frenzy | Desert Storm | Magnetic Mayhem | Terra Drome
Items
Wumpa Fruit | ? Crates | Trophies | Crystals | Gems | Relics | CNK Tokens | Keys
Power Ups
Missiles | Bowling Bombs | TNT Crates | Static Orbs | N. Tropy Clocks | Turbo | Ice Mines | Power Shields | Aku Aku/Uka Uka/Velo Masks | Tornado Tops |Invisibility | Super Engines | Red Eye Missiles | Removed: Voodoo Doll
Ad blocker interference detected!
Wikia is a free-to-use site that makes money from advertising. We have a modified experience for viewers using ad blockers

Wikia is not accessible if you've made further modifications. Remove the custom ad blocker rule(s) and the page will load as expected.