Wizards and Lizards (すすめ! まほうのしろ lit. Go ahead! Magic Castle in Japanese) is the fourth level of the first warp room in Crash Bandicoot: The Wrath of Cortex. It takes place in the ruins of Cortex Castle and features lab assistants dressed as knights and a large mutated dragon that chases Crash down long corridors. There are also portraits of various past villains on the walls, including the Komodo Brothers, Tiny Tiger, and N. Gin. The death route in this level leads to the green gem.
Hazard count
Bats: 6
Blades: 4
Spinning Swords: 1
Spinning Maces: 1
Walkthrough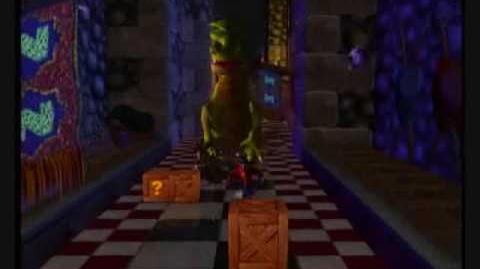 Gallery
Trivia
This is the first chase level in Crash Bandicoot: The Wrath of Cortex.
There is a leftover debug feature in the original PlayStation 2 NTSC-U/C version of the game that allows Crash to easily obtain this level's platinum relic. The way this is performed is by pressing the Select button during the time trial. This warps Crash very close to the level's end.[1]
The player can activate the Nitro Switch Crate before entering the death route to make it easier.
References
Crash Bandicoot: The Wrath of Cortex
Protagonists
Crash Bandicoot • Aku Aku • Coco Bandicoot • Pura
Antagonists
Doctor Neo Cortex • Crunch Bandicoot • The Elementals (Rok-Ko, Wa-Wa, Lo-Lo and Py-Ro) • Uka Uka • Doctor Nefarious Tropy • Doctor N. Gin • Tiny Tiger • Dingodile
Items
Crates (Basic Crate, ? Crate, ! Crate, Activation Crate, Outline Crate, Crash Crate, Locked Crate, Invisibility Crate, Iron Crate, Iron Arrow Crate, Checkpoint Crate, Arrow Crate, Nitro Crate, Nitro Switch Crate, TNT Crate) • Wumpa Fruit • Crystal • Gem • Relic
Super Powers
Tip Toe • Double Jump • Death Tornado Spin • Fruit Bazooka • Crash Dash (Super Power) • Super Belly Flop
Levels
First Chamber (Arctic Antics, Tornado Alley, Bamboozled, Wizards and Lizards, Compactor Reactor) • Second Chamber (Jungle Rumble, Sea Shell Shenanigans, Banzai Bonsai, That Sinking Feeling, H2 Oh No) • Third Chamber (The Gauntlet, Tsunami, Smokey and the Bandicoot, Eskimo Roll, Fahrenheit Frenzy) • Fourth Chamber (Avalanche, Droid Void, Crashteroids, Coral Canyon, Weathering Heights) • Fifth Chamber (Crash and Burn, Gold Rush, Medieval Madness, Crate Balls of Fire, Cortex Vortex) • Boss Levels (Rumble in the Roks, Drain Damage, Crashes to Ashes, Atmospheric Pressure, Crunch Time) • Sixth Chamber (Knight Time, Ghost Town, Ice Station Bandicoot, Solar Bowler, Force of Nature) • Cut levels (Cut Chinese harbour level, Tsunami, Cut Glider level, Cut oriental level, Fire Island)
Enemies
Seal • Penguin • Narwhale • Lab Assistant • Bat • Fish • Lizard • Koi Fish • Crane • Salmon • Robot • Monkey • Parrot • Crab • Donkey • Inflating Cactus • Scorpion • Knight Lab Assistant • Ninja Lab Assistant • Skiing Lab Assistant • Gold Miners
Ad blocker interference detected!
Wikia is a free-to-use site that makes money from advertising. We have a modified experience for viewers using ad blockers

Wikia is not accessible if you've made further modifications. Remove the custom ad blocker rule(s) and the page will load as expected.