Wumpa Fruit
Talk

0
1,431pages on
this wiki
Wumpa Fruit are Crash's favorite food and a common object of all Crash Bandicoot games. Collecting 100 wumpa fruit will give Crash an extra life (platformers from Crash Bandicoot to Twinsanity). In Crash Bandicoot Purple: Ripto's Rampage, Crash instead has infinite lives and certain amounts of wumpa fruit are needed to access some levels and buy trading cards. Crash Team Racing and Crash Nitro Kart uses wumpa fruit to 'Juice Up' the weapons that players pick up throughout a race or during a battle. In Crash of the Titans, they are used to replenish health. Also in Crash of the Titans, there is a golden wumpa fruit that gives the player another life. They are obtained when the player sacrifices a titan to a large mojo sphere or when a spybot is destroyed.
During
Doctor N. Gin
's boss fight in
Crash Bandicoot 2: Cortex Strikes Back
, Crash launches wumpa fruit at N. Gin's mech to damage it. If Crash spins wumpa fruit, they will fly away. But, if Crash slides into wumpa fruit, he will collect it as normal. In
Crash Bash
, they were used in
Crate Crush
and
Tank Wars
for restoring health.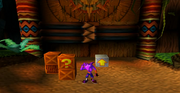 Appearances
Edit
In Crash Bandicoot, if you happen to leave Crash standing for too long, Crash will hit himself with a wumpa fruit, revealing purple juice. However, this has been retconned from Crash Tag Team Racing onward, with the juice being yellow instead.
Crash Tag Team Racing is the only game not to have any wumpa fruit, unless you count Willie Wumpa Cheeks as one.
In Crash Bandicoot: The Wrath of Cortex, if you leave Crash standing for a while, he'll start juggling a wumpa fruit, or even pull one out of his ear.
In Japan, they are called Apples which is ironic since the Wumpa Fruit is a form of apples
Crash Bandicoot 2: Cortex Strikes Back
Protagonists
Crash Bandicoot • Aku Aku • Coco Bandicoot • Doctor Nitrus Brio • Polar
Bosses
Ripper Roo • Komodo Brothers • Tiny Tiger • Doctor N. Gin • Doctor Neo Cortex
Items
Crates (Basic Crate, ? Crate, Bounce Crate, Aku Aku Crate, Checkpoint Crate, Crash Crate, Arrow Crate, Locked Crate, TNT Crate, Nitro Crate, Nitro Switch Crate, ! Crate, Iron Crate, Iron Arrow Crate) • Wumpa Fruit • Crystal • Gem
Levels
First Warp Room (Turtle Woods, Snow Go, Hang Eight, The Pits, Crash Dash) • Second Warp Room (Snow Biz, Air Crash, Bear It, Crash Crush, The Eel Deal) • Third Warp Room (Plant Food, Sewer or Later, Bear Down, Road to Ruin, Unbearable) • Fourth Warp Room (Hangin' Out, Diggin' It, Cold Hard Crash, Ruination, Bee-Having) • Fifth Warp Room (Piston It Away, Rock It, Night Fight, Pack Attack, Spaced Out) • Sixth Warp Room (Totally Bear, Totally Fly)
Enemies
Armadillo • Bees • Bird • Scrubbing Bubbletrons • Electric Eel • Four-Legged Robot • Gorilla • Holo-Projector • Lab Assistant • Lizard • Monkey • Orca • Penguin • Piranha • Polar Bear • Porcupine • Rat • Seal • Sparky Tentaclebot Unit • Spike Lizard • Spike Rat • Spiked Saucers • Spitter Plants • Tiki • Turtle • Venus Fly Trap
Crash Bandicoot 3: Warped
| | |
| --- | --- |
| Protagonists | Crash Bandicoot | Aku Aku | Coco Bandicoot | Pura | Baby T | Fake Crash |
| Bosses | Tiny Tiger | Dingodile | Doctor Nefarious Tropy | Doctor N. Gin | Doctor Neo Cortex | Uka Uka |
| Items | Crates | Wumpa Fruit | Crystals | Gems | Relics |
| Levels | First Chamber (Toad Village, Under Pressure, Orient Express, Bone Yard, Makin' Waves) | Second Chamber (Gee Wiz, Hang 'em High, Hog Ride, Tomb Time, Midnight Run) | Third Chamber (Dino Might!, Deep Trouble, High Time, Road Crash, Double Header) | Fourth Chamber (Sphynxinator, Bye Bye Blimps, Tell No Tales, Future Frenzy, Tomb Wader) | Fifth Chamber (Gone Tomorrow, Orange Asphalt, Flaming Passion, Mad Bombers, Bug Lite) | Sixth Chamber (Ski Crazed, Area 51?, Rings of Power) | Secret Levels (Hot Coco, Eggipus Rex) |
| Enemies | Bandifish | Beetle | Snake | Arsonist | Crocodile | Eel | Goat | Lab Assistant | Monkey | Pufferfish | Scorpion | Seagull | Shark | Mystery Man | Triceratops | Pirate | Wave Lab Assistant | Double-Headed Lab Assistant |Wizard Lab Assistant |
Crash Bandicoot: The Wrath of Cortex
Protagonists
Crash Bandicoot • Aku Aku • Coco Bandicoot • Pura
Antagonists
Doctor Neo Cortex • Crunch Bandicoot • The Elementals (Rok-Ko, Wa-Wa, Lo-Lo and Py-Ro) • Uka Uka • Doctor Nefarious Tropy • Doctor N. Gin • Tiny Tiger • Dingodile
Items
Crates (Basic Crate, ? Crate, ! Crate, Activation Crate, Outline Crate, Crash Crate, Locked Crate, Invisibility Crate, Iron Crate, Iron Arrow Crate, Checkpoint Crate, Arrow Crate, Nitro Crate, Nitro Switch Crate, TNT Crate) • Wumpa Fruit • Crystal • Gem • Relic
Super Powers
Tip Toe • Double Jump • Death Tornado • Fruit Bazooka • Crash Dash (Super Power) • Super Belly Flop
Levels
First Chamber (Arctic Antics, Tornado Alley, Bamboozled, Wizards and Lizards, Compactor Reactor) • Second Chamber (Jungle Rumble, Sea Shell Shenanigans, Banzai Bonsai, That Sinking Feeling, H2 Oh No!) • Third Chamber (The Gauntlet, Tsunami, Smokey and the Bandicoot, Eskimo Roll, Fahrenheit Frenzy) • Fourth Chamber (Avalanche, Droid Void, Crashteroids, Coral Canyon, Weathering Heights) • Fifth Chamber (Crash and Burn, Gold Rush, Medieval Madness, Crate Balls of Fire, Cortex Vortex) • Boss Levels (Rumble in the Roks, Drain Damage, Crashes to Ashes, Atmospheric Pressure, Crunch Time) • Sixth Chamber (Knight Time, Ghost Town, Ice Station Bandicoot, Solar Bowler, Force of Nature) • Cut levels (Cut Chinese harbour level, Cut scooter level, Cut Glider level, Cut oriental level, Fire Island)
Enemies
Seal • Penguin • Narwhale • Lab Assistant • Bat • Fish • Koi Fish • Crane • Salmon • Robot • Monkey • Parrot • Crab • Donkey • Inflating Cactus • Scorpion • Knight Lab Assistant • Ninja Lab Assistant • Skiing Lab Assistant